This is an archived article and the information in the article may be outdated. Please look at the time stamp on the story to see when it was last updated.
LEE'S SUMMIT, Mo. -- Icy roads have caused a lot of slide-offs and fender benders this winter. But the people involved in these crashes aren't the only ones at risk.
Many people who provide roadside assistance say often times cars come within inches of hitting them when they're out on the road.
"Those shoulders sometimes don't accommodate the vehicles because those shoulders are narrow, and we might have to step out into that traffic," said Floyd Bessard with the Missouri Department of Transportation. "And then if you have an errant vehicle that's not paying attention to the lights ahead of them, you're subject to getting hit."
Bessard said signs, flares and flashing lights sometimes aren't enough to combat speeding, inattentive and sometimes impaired drivers.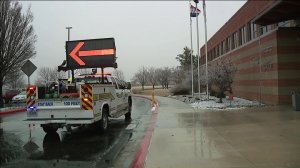 "We lost an operator, Clifton Scott, due to that," he said. "And I've had a couple of occasions where people do not move over, and they just fly right by you in the same lane."
Moving over isn't just a request. It's the law in Missouri, and violating the move-over law could come with a ticket and hefty fine.
"They need to start pulling more people over that don't move over for us, or even them or any other emergency vehicle," said CJ Barrow with Independence Specialty Tow. "I think that's the only way this is going to get across to people -- once a lot more people start getting tickets for it."
Barrow said he has close calls with drivers every day.
"The one that really stands out is we had a tractor trailer that went by us at highway speeds, and I was actually on the side of my truck that was closest to the interstate and he was about a foot away from me," he said. "It gets pretty scary out there whenever that kind of stuff happens."