This is an archived article and the information in the article may be outdated. Please look at the time stamp on the story to see when it was last updated.
BELTON, Mo. – One metro farm couple was afraid this summer's hot temperatures would hurt their crop, but they're actually opening earlier in the season than ever before.
Jeanne Johnson has put in months of work, long before shoppers step foot inside Johnson Farms on Friday to buy mums.
"We have 12 miles of mums, 29,000 pots, 47 varieties, seven colors in three bloom times," she said.
Customers will look at books and banners inside the market to decide which mums they'd like to purchase. Once they decide, staff will do the heavy lifting.
"We do the work for them," she said.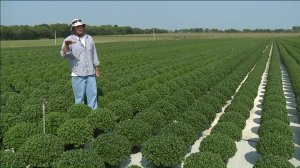 Pointing toward her husband, she said, "This is man that masterminds the whole thing. He makes sure that everything looks as neat and tidy as it is and makes sure that every single mum has water to it all season long."
Jim Johnson thought this year's drought conditions might've kept their 33,000 mums from surviving.
"The heat is kind of your enemy," he said. "You don't want too much heat. That's kind of the battle here. It was a little bit problematic right when we started transplanting. We had those days close to 100 degrees."
But with careful planning and markings, proper water distribution and backup sprinklers just in case, Jim Johnson said they're right on track in size and growth.
"This year we did add sprinklers because they were talking it was going to be so hot, and we ran them a little bit in the heat of the day, in the first 3 or 4 days after transplanting them."
The farm opens for mum sales Friday at 9 a.m.