This is an archived article and the information in the article may be outdated. Please look at the time stamp on the story to see when it was last updated.
OLATHE, Kan. — Friends and family of Caleb Schwab, 10,  who died Sunday, Aug. 7 at Schlitterbahn Water Park gathered Friday at LifeMission Church,  16111 S. Lone Elm Rd., in Olathe to celebrate his life.
Caleb leaves behind his mother, Michele Schwab and father, Scott Schwab, a Kansas state representative, along with three brothers, one older and two younger. He has many friends from Heritage Christian School, from his church, on his baseball team, the Mudcats in Lenexa and on the Sporting Blue Valley soccer league team.
Caleb's dad, Scott Schwab, who represents the 49th District in Kansas, spoke at the funeral, thanking the many people who have helped his family in the past week.
He extended gratitude to 'all my colleagues that I served with through the years; some I've gotten to see, some I haven't, thank you. The outpouring of support from.... I know a lot of people who hate the legislature but we're a twisted bunch and there's an odd camaraderie. there that transcends any difference in politics at a time of need.'
He also thanked the security team, LifeMissionChurch and Powell Gabel Funeral Home and Crematory.
"City of Olathe and my mayor, 'thank you' is not the big enough word. It's even more inefficient of a word for the baseball moms and soccer moms that did everything. When I look out there it was the first time I was able to smile when thinking about Caleb since Sunday. That's a gift you can't put a price tag on."
He thanked three people he referred to as the 'A-Team'; one his pastor, one in Florida and one who he said is bigger than he. He also thanked his brother Rick and all the people who came out Thursday night for the memorial service.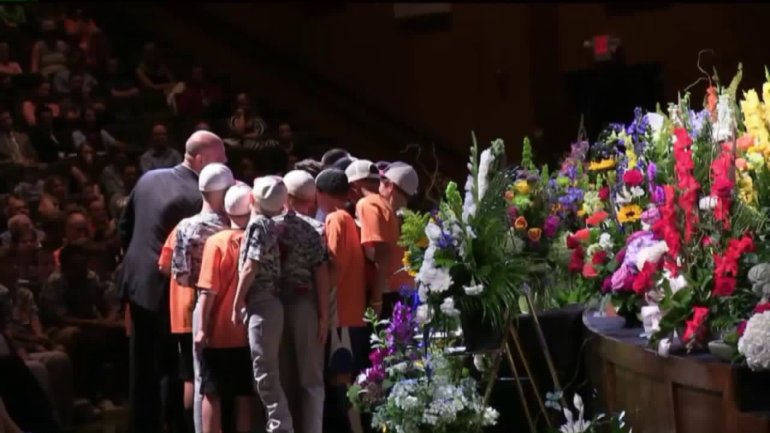 Then he turned to Caleb's friends, many sitting together wearing their team jerseys in support of Caleb.  At one point he had the boys get into a huddle with him for Caleb and had the audience applaud them while the boys stood.
"Caleb's friends, thank you for helping shape his character and building memories that we will cherish forever. You guys are awesome," Schwab said. "If it wasn't for a lot of you guys, you Mudcats and Orange Crush and Thunder, we'd have less trophies in the basement, but you guys were a part of his life and you guys were great and a lot of the heartache that we burden is knowing that you're hurting too. And again, like I said last night to most of you, our goal is to get to a place where we think of Caleb and we have joy, we don't have sorrow for what we lost. And we're committed to getting there together," Scott Schwab said.
He then talked about his kids and told a sweet story about Caleb that he will likely re-tell many times to keep Caleb's memory and spirit alive.  The excerpt about Caleb is transcribed below, but it is best understood if heard from his own father. (Story is in the video player above.)
"I want to share a story about Caleb. I had lost my job several years ago. We hadn't breakin' it to the boys yet so Michele was taking on extra hours at the pharmacy so it was my job to cook dinner, and the boys were playing in the dining room with Legos and cars and things that I normally step on in the middle of the night and Nathan says, 'Dad, Why you home so much?' You noticed. I went through the dynamics that I had been laid off and let go. He had questions how are we going to pay for the house? Are we going to have to move? Are we going to run out of food? Are we going to run out of water? Do I have to sell my toys?' He went through all these questions and Caleb just kept on playing and playing and playing and playing. And I'm making Hamburger Helper because that's about all I can do. They finally make it to the table and I say, 'Nathan do you have anymore questions?' and he goes, 'No. I'm good.' Caleb was five at the time and he just turned around to me and said, 'Dad, I'm so sorry that happened to you.' I was just blown. I was the kid who scraped the knee at that moment, and he held me. That was Caleb."
Scott Schwab paused briefly and then let the audience know the rest of the story.
"I said, 'Thank you so much.' He said, 'Dad I do have one question.' I said, 'What's that son?' 'Why does hamburger need so much help?' That kid could go from a moment to laughter."
Scott Schwab also talked about the unique qualities and love for each of his four sons.
"Isaac who's playing, may be napping actually. Talk about a short time that he had with Caleb, but there wasn't a moment wasted."
"Alex who lost a big brother who was supposed to help him on the bus this year, I'm proud of the way he's handling this."
"Nathan, not the way I wanted you to enter your manhood, but you've done very well. I am humbled to call you my son."
"When my kids were born, Nathan was my pleasure, Caleb was my joy, Alex was my delight and  Isaac was my treasure. We've lost some joy. We've lost Caleb, my joy. But we'll get it back," he said.