This is an archived article and the information in the article may be outdated. Please look at the time stamp on the story to see when it was last updated.
INDEPENDENCE, Mo. — A Kansas City woman has been charged in a serious crash on Friday afternoon that killed four people and seriously injured four others.
Friday afternoon, Independence police began chasing a blue Jeep at 23rd and Maywood after getting a report that it was stolen.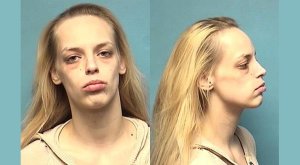 Victoria Brown was behind the wheel, according to Jackson County prosecutors. During the chase, Brown allegedly hit a silver Dodge sedan – as the Dodge turned left from eastbound 23rd Street onto Television Place near I-435.
On Friday evening, officers at the scene said one woman in the Jeep was killed, along with a man and woman in the Dodge. Two passengers in the Jeep and two in the Dodge were hospitalized with critical injuries.
Police on Saturday identified the deceased victims in the Dodge as 29-year-old AaRon C. Daniel, 30-year-old Shawn Johnson, and 24-year-old Anthony A. Belton Jr., all of Kansas City, Mo.
Police said the victim in the Jeep was 27-year-old Amanda N. Perry, of Independence.
Brown was taken to the hospital with serious but not life-threatening injuries.
Brown is now charged with three counts of 2nd degree murder and one count of resisting a lawful stop. The fourth victim died after these charges were filed, so additional charges may be forthcoming.
Prosecutors requested a bond $250,000 cash.