This is an archived article and the information in the article may be outdated. Please look at the time stamp on the story to see when it was last updated.
INDEPENDENCE, Mo. — U.S. Citizenship and Immigration Services (USCIS) welcomed 20 new U.S. citizens, from 20 different countries Thursday afternoon during a ceremony at the Truman Courthouse, 121 W. Lexington Ave.
"Before like a resident permanent, I feel not very sure, not very sure or whatever. Now I feel very good," said Isabel Bateman about her new citizenship. "Right now I can vote, I can participate in the stuff like a citizen in this country."
Bateman was born in Colombia, South America.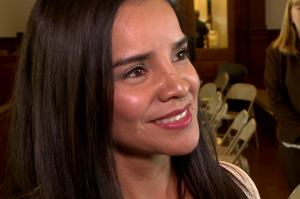 "I feel pretty good because I have many friends that they want to do it," said Bateman.
During fiscal year 2015, approximately 729,000 immigrants were naturalized nationwide. Naturalization is the process by which U.S. citizenship is conferred upon foreign citizens or nationals after fulfilling the requirements established by Congress. After naturalization, foreign-born citizens enjoy nearly all the same benefits, rights and responsibilities that the Constitution gives to native-born U.S. citizens, including the right to vote.
U.S. District Judge Stephen R. Bough, Western District of Missouri, presided over the ceremony, with assistance from USCIS. Special remarks were delivered by Kansas City USCIS District Director David M. Douglas, and by Jackson County Executive Frank White, Jr.
For more information on USCIS and its programs, visit uscis.gov and follow us on Facebook (/uscis), Twitter (@uscis), YouTube (/uscis) and the USCIS blog The Beacon.