This is an archived article and the information in the article may be outdated. Please look at the time stamp on the story to see when it was last updated.
PLATTE CITY, Mo. -- The attorney for Syed Jamal, joined by his family and a group of supporters, gathered Wednesday outside the Platte County jail where Jamal is currently being held.
Jamal arrived back in the metro around 2:30 p.m. Wednesday after being held in custody in Hawaii. Jamal was in Hawaii when the Board of Immigration Appeals issued a second stay of deportation Monday.
Jamal's attorney Rheka Sharma-Crawford said Tuesday evening that they filed a motion to change venues, asking the court to either send the case to Hawaii or bring Jamal back to the metro so the court here can continue to hear his case. Officials returned the Park University professor to KC.
Sharma-Crawford said Jamal will be staying at the Platte County jail for the time being, and it is now her hope that Immigration and Customs Enforcement (ICE) would put him on an order of supervision. Sharma-Crawford said ICE has indicated that they intend to keep him detained until the Board of Immigration Appeals has ruled.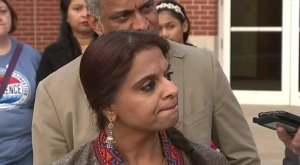 "Mr. Jamal now has a private bill that has been sponsored and put forth by Congresswoman [Lynn] Jenkins. He has a valid work authorization document that is valid until October of 2018, and he has been on an order of supervision for the past six years, and with no criminal record whatsoever, it doesn't make sense for them to continue to hold him, and it is our hope that ICE will reconsider that position in the days that come next," Sharma-Crawford said. "As of right now, he is back. He is in good spirits."
Jamal was airborne Monday when the Board of Immigration Appeals issued a second temporary order blocking his deportation.
Crawford  said in a news conference Monday afternoon that Jamal was taken from a west Texas facility just before 7 a.m. Monday and put on a plane, which was scheduled to stop in Honolulu for fuel before returning Jamal to his home country of Bangladesh.
On Wednesday afternoon, Sharma-Crawford said she forwarded Rep. Jenkins' bill to ICE, but at this time it is up to their discretion whether or not to release Jamal.
"ICE has the determination and the authority and the discretion to now let him go home. Prior to his arrest on Jan. 24, he is now in arguably the similar situation. He been on an order of supervision for the past six years, which he has complied and comported with every requirement that they've asked. He has a job to go back to. He has proper work authorization. He has a valid social, and he has a valid driver's license. And he has a community and a family waiting for him. So at this point, it makes little sense to keep him detained," Sharma-Crawford said.
His attorneys have told FOX4 that part of Jamal's predicament stems from an error on behalf of immigration officials. She said the proceedings were flawed when Jamal appeared at a hearing in 2011, which invalidates the order of deportation when he later overstayed his visa.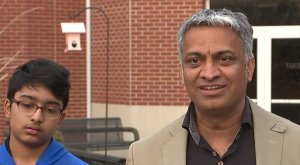 "We're all humans. We all make mistakes, but the agency's mistakes unfortunately gets held against the individual," Sharma-Crawford said. "At one point, he was approved a visa that they let him be on, and then ultimately what they did is they said, 'wait a minute. We got that wrong.' And when you yank that away, it goes all the way back and it reverts back to the original date of the approval. Well now you've thrown someone out of status for a period of time where they thought they were in status."
The attorney said Jamal has not yet been able to see his family.
Jamal's brother, Syed Hussain Jamal, said the entire ordeal has been an emotional roller coaster for him and his entire family.
"We are asking ICE to do the right thing, do the family thing, and let the man out so he can be with his family and his community," Syed Hussain Jamal said. "We spoke to him a little while ago, but I could tell that he was pretty shocked. ... He doesn't know exactly what's going on."
Watch the entire news conference below: