This is an archived article and the information in the article may be outdated. Please look at the time stamp on the story to see when it was last updated.
KANSAS CITY, Mo. — Items purchased at an estate sale in 2010 for Kansas City jazz legend — Oscar "Lucky" Wesley have turned up. The icon's grandson is thankful he's getting back a piece of family history.
The grandson of Wesley, a long time bassist for the Scamps, was recently contacted by a local auction house…and now has items from his grandfather he never knew existed.
"I saw a whole bunch of stuff, pictures, mementos, and news clippings, ephemera, all this really neat stuff," said Andrew Turner, the owner of Andrew Turner Auction.
Turner was at an auction recently when he came upon items that seemed important. He was the winning bidder, and brought it back to Kansas City, where he told a friend of his what he found.
"And she said, 'oh my goodness, I know his grandson! You guys have to meet up,'" Turner said.
The items belonged to Oscar "Lucky" Wesley –a longtime bass player and vocalist with local jazz group the Scamps.
"He was basically my father, he was the one that raised me," said Phillip Wesley, Oscar "Lucky" Wesley's grandson.
Wesley, 31, was shocked when Turner contacted him about his grandfather.
"I think it just shows his character, and what a great guy that he is, and when he first called me I couldn`t thank him enough," Phillip said.
"It`s not all about the money, the right thing to do is to give this guy his grandpa`s stuff," Turner added.
Phillip says he has his grandpa's eclectic taste in music — and has since adopted his nickname – "Lucky".
"It`s actually a play on being unlucky, … he started off as a trumpeter, he was playing his trumpet, and the emcee went to go and adjust his microphone, and it hit the end of his trumpet and knocked his two front teeth out, and he couldn`t blow the horn the same anymore, so he taught himself to play bass," Phillip said with a chuckle.
Phillip says after the Air Force, his grandfather joined the Five Aces, then the Scamps. He died of stomach cancer in 2010.
If you have related items, and want to contact Phillip, he goes by "Lucky Wesley" on Facebook.
There is even an honorary street — Scamps Alley — on 8th and Central named after the band and it remains in Kansas City today.
There are still some items that Wesley would like back.
One piece in particular is this black and white painting by a local artist of his grandfather playing his bass.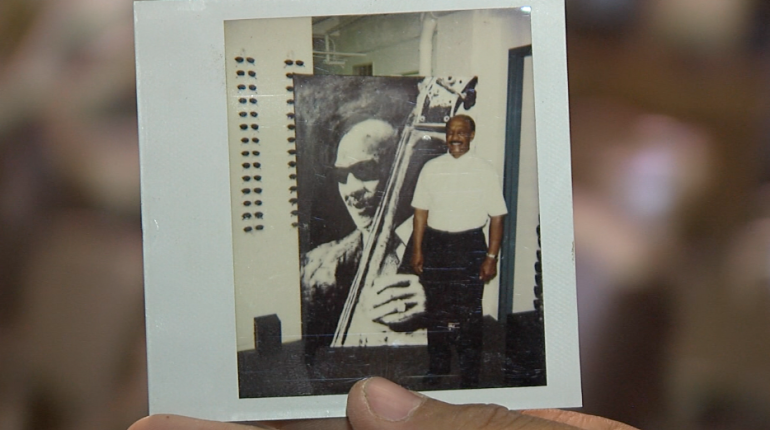 For more information on Andrew Tuner Auctions visit www.atakc.com