This is an archived article and the information in the article may be outdated. Please look at the time stamp on the story to see when it was last updated.
KANSAS CITY, Kan. — The man who ran toward the bullets at an Olathe sports bar while others ran away is being called a hero.
The gunfire at Austins Bar and Grill on Wednesday killed Srinivas Kutchibhotla, 32 and injured Alok Madasani, 32, and Ian Grillot, 24.
"We were just finishing our dinner and we heard the 'pop pop pop' and all the sudden people were running," customer Lyla Hinsley said.
They were running to get away from a shooter inside Austins Bar and Grill identified by police as Adam Purinton, 51. In a video provided by University of Kansas Health System Ian Grillot says he hid under a table at first.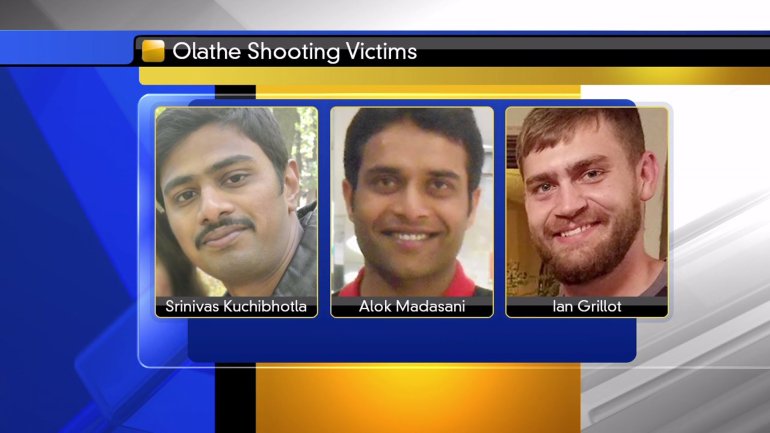 "I thought I heard nine shots, I expected his magazine to be empty so I got up and proceeded to chase him down," Grillot said.
But the gunman wasn't out of bullets.
"I got behind him and he turned around and fired a round at me, went through my hand and through my chest here," he said.
"One of the girls who worked there told me Ian had been shot and I was like that's ridiculous, I was literally just having a beer with the dude," Tyler Lape said.
As doctors performed surgery on Grillot, his prayers were for the other two men. Garmin engineer Kutchibhotla didn't make it. Friends comforted his wife Thursday at his Olathe home.
But fellow engineer Madasani survived and ended up in a University of Kansas Health System hospital room not far from Grillot's. Madasani visited him Thursday to say thank you.
"It was the greatest thing I can't even describe it. Come to find out his wife is also five months pregnant. Somebody was guiding me to do what I did and somebody was watching over me and him," Grillot said.
Lape, the friend who was with Grillot moments before the shooting says: "He's a hero. It takes a special kind of person when bullets start flying to be so selfless as to run out there and save another person."
But Grillot disagrees.
"I've been hearing people call me a hero and it's not like that, I was just doing what anyone should have done for another human being. It's not about where he was from or his ethnicity, we are all humans."
Austins remains closed until Saturday giving the staff and community time to heal.