This is an archived article and the information in the article may be outdated. Please look at the time stamp on the story to see when it was last updated.
[protected-iframe id="96b411345ebab2e5014a52eeba26eb94-28016812-28082709″ info="http://WCIV.images.worldnow.com/interface/js/WNVideo.js?rnd=359214;hostDomain=www.abcnews4.com;playerWidth=630;playerHeight=355;isShowIcon=true;clipId=11549760;flvUri=;partnerclipid=;adTag=News;advertisingZone=;enableAds=true;landingPage=;islandingPageoverride=false;playerType=STANDARD_EMBEDDEDscript;controlsType=overlay;galleryType=wnstory;galleryId=29178519″ ]
Warning: This story contains images that some viewers might find disturbing. Viewer discretion advised!
CHARLESTON, S.C. — The former owners of a dog found in South Carolina with its muzzle taped shut said they may know who committed the animal abuse.
According to ABC4 in Charleston, a 15-month-old Staffordshire terrier mix was found with black electrical tape wound around her muzzle in North Charleston, S.C.
Officials say that the tape was so tight that her tongue was caught between her teeth. The dog may have been left in that condition for up to 48 hours.
When doctors removed the tape, her muzzle swelled to about double its normal size. Surgery may be needed and veterinarians say she could lose her life.
The dog was named Diamond, but rescuers renamed her Caitlyn. The dog's previous owners, who remained unidentified, told ABC News 4 that they were in need of money, so they sold her for $10.
The dog showed back up at their yard a few days later with her muzzle taped shut. The previous owners have provided a description of the man they sold the dog to on Memorial Day to officers.
Caitlyn remains at the Charleston Animal Society, where officials said she is getting better—however her recovery will last months and surgery may be required.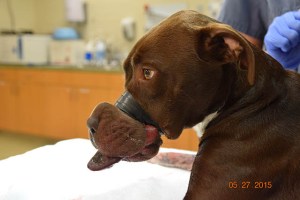 The Animal Society is offering a $1,000 reward for information that will lead to an arrest and conviction in the case. The suspect would face up to five years in prison and a $5,000 fine.