This is an archived article and the information in the article may be outdated. Please look at the time stamp on the story to see when it was last updated.
KANSAS CITY, Mo. — Strong turnout for Tuesday's election also prompted some voters to report having trouble casting their ballots.
For a time Tuesday morning, some worried if their votes would be counted at one polling place on Ruskin Way. People who lined up at 6 a.m. when the polls opened said it didn't take long for a problem to pop up.
There was one machine to accept paper ballots, and it broke down shortly after election workers started feeding in votes.
With so many people trying to cast their selections before they went to work, voters tell FOX4 that the election workers simply were piling up paper ballots on a table, telling voters they would be scanned later.
That made some uncomfortable.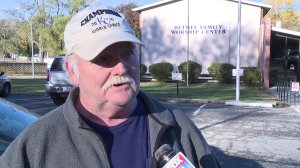 "I filled out my ballot, went to go turn it in, and about the fourth one that had already gone through jammed the machine," Kansas City voter John West said. "And they didn't know what to do after that. They started stacking them up on a chair saying we'll put them in later. I was concerned."
West waited nearly three hours for an election supervisor to arrive and un-jam the machine. Then he watched as his ballot was counted by the scanner. He said the outcome of the election is too important to him to leave anything to chance.
A similar problem happened at a polling place at the Coves subdivision in the Northland after a power outage left the ballot scanner inoperable. Again election workers told voters they would hold their ballots and scan them later. But once again, many people waited about two hours to make sure it actually happened.