This is an archived article and the information in the article may be outdated. Please look at the time stamp on the story to see when it was last updated.
BELTON, Mo. — Family members of a man killed in a trench collapse are devastated Thursday night. First responders worked in the freezing cold temperatures for nearly 10 hours to recover his body.
Emergency crews and firefighters packed up and left the scene, but the wave of grief was just beginning to wash over the victim's family. Family members have identified the man killed as 30-year-old Donald "DJ" Meyer.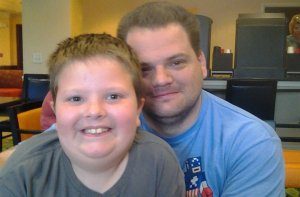 He's a father from Oak Grove who was raising his 8-year-old son, Ashten, on his own after Meyer's wife died a few years ago.
Belton's fire chief said Meyer was a private subcontractor who was working to set up a sewer line for a new house in the neighborhood. For reasons unknown, at some point Meyer got into the trench and it collapsed around him.
The chief says they quickly knew it was unlikely Meyer would survive – with responders eventually locating his body nearly eight feet underground. Meyer's family says they're heartbroken – and focused on being there for Meyer's son and mother.
"We're hoping that they just feel God's peace on them and they can hold each other and our family is a huge support system, so we're just going to love on them as much as we can. It just didn't end well," Meyer's cousin Jennifer Franklin said. "It's just surreal. It reminds you to put the little petty things away, forget about them, and forgive people and love them more."
"Of course the first thing is, why did he go down there for? But you know we can sit here and do the why, why, what if, what if? But it's just really scary. We were praying for a miracle. That was the only thing we could do," she continued.
Meyer's family says first responders updated them constantly and never gave them false hope, something they appreciated. They also wanted to say thank you to all the firefighters who put in long hours at the collapse site on Thursday.