This is an archived article and the information in the article may be outdated. Please look at the time stamp on the story to see when it was last updated.
KANSAS CITY, Mo. — Several hometown celebrities are back in the metro to raise money for Children's Mercy Hospital.
Saturday's Big Slick event brought the celebs out to pinstripes for a bowling tournament.
It was a big day at the Big Slick block party as hundreds of people stopped to see their favorite celebs back home.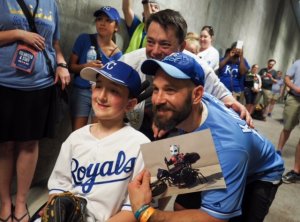 One Kansas City native, Paul Rudd, made an extra stop walking in the crowd, stopping to see this boy dressed head to toe like his role model.
Reese Davis said Paul Rudd is his role model "because he has shown that you can do anything."
You may recognize the boy behind the "Ant Man" mask. Reese Davis participated in the Big Slick event last year.
"He was actually born with cancer," said Reese's dad, Lon. "So he has gone through Children's Mercy Hospital, the cancer floor, so Big Slick means a great deal to our family."
Reese even got the chance to throw out the first pitch at the royals game. Those memories are now captured in a photograph and will be cherished for years to come.
"In the dugout, I also got a picture signed by him of me in this costume," said Reese.
"Paul Rudd says he has a copy of that picture sitting on his desk in his office, so he thinks of Reese as his partner in crime," Lon added.
The auction and victory party is tonight at 8 at the arvest bank theatre in the midland.