This is an archived article and the information in the article may be outdated. Please look at the time stamp on the story to see when it was last updated.
KANSAS CITY, Mo. — A new mode of transportation has rolled into town, and the city is taking a hard look at the new option.
Bird scooters, product of a California-based scooter-sharing company, have landed in Kansas City, but they don't come without some controversy.
"Bird decided they were going to come into Kansas City before the city was prepared for them to be here," said Eric Vaughan, the bike share director for BikeWalk KC.
You might have noticed the new electric scooters as they arrived in town this week.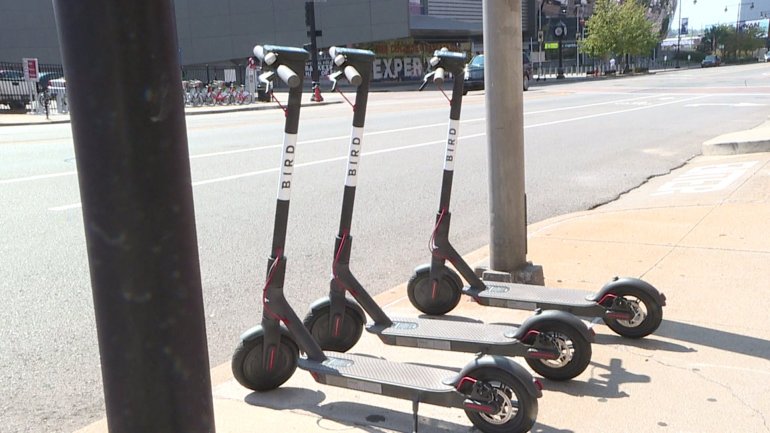 "I think it's cool you can leave it anywhere. It's convenient, so I don't have to go back to a charging station and then walk back to the office. I can just leave it at the office," said Josh Chavis, who was out riding a Bird scooter Thursday.
Bird scooters cost $1 to start each ride, plus 15 cents per minute after that. They go 15 miles on a charge at 15 mph.
"You just download the app, and it's basically a QR code on the scooter itself. You scan the QR code. You have to scan your driver's license, and at that point it unlocks the scooter, and you can ride it," Chavis said.
Here are more details on how the scooter company works.
City officials met Thursday to discuss potential regulations moving forward, and BikeWalk KC also met with the scooter company.
"We are most concerned that this company come in and operate in a way that doesn't cause problems for the community, so we can ensure that the really cool scooters that we now have as a feature highlight the positive aspects where we want them and not the negative ones," Vaughan said.
A city spokesperson said Kansas City supports innovation and transportation options. It is simply making sure there's a full understanding of how it works, which will help determine how it fits into existing laws and what revisions might be considered.
But there are concerns, particularly about people leaving the scooters lying around wherever they stop. The company has been banned from some cities across the country and stirred up big debates in others.
"You definitely have to be careful. They want you to ride in the bike lanes, the sidewalks. For someone that walks, it could definitely be annoying if they`re zooming on the sidewalk," said Mac Casey, another rider.
"We are 100 percent for mobility options," Vaughan said. "We want to see a diversity of transportation options throughout the area. That`s really going to benefit everyone at the end of the day. We just really need to take a moment and pause and make sure that we`re doing it in a manner that benefits the most people that it can."
BikeWalk KC is the regional advocacy group for all biking and walking issues in the region. The organization is advising city staff on best practices and how other cities are dealing with this issue.
They have put out suggested legal framework that`s consistent with what`s going on in other communities.