This is an archived article and the information in the article may be outdated. Please look at the time stamp on the story to see when it was last updated.
LEE'S SUMMIT, Mo. — Firefighters in Lee's Summit worked quickly with the help of Kansas City, Mo., firefighters to contain and extinguish flames at a warehouse fire in Lee's Summit Wednesday morning.
The fire appears to have started just before 8 a.m. at CK Enterprises just south of the intersection of Highway-50 and 291 south. CK Enterprises makes industrial strength cleaning supplies.
Fox 4's John Pepitone spoke with Charlie Kunkel , the owner of CK Enterprises, who said there were workers outside near a 1,000 gallon storage tank transferring some of the flammable liquid manufactured specially for car washes when a spark ignited and sent the tank up in flames.
One person sustained minor burns. The hair on their arm was singed, according to the company's owner. The other 60 employees were able to evacuate safely.
Kunkel said the factory was strategically designed with the tanks outside of the building for situations such as this. Concrete containment walls also surround the tanks to also prevent fires from quickly spreading. Those walls helped firefighters knock flames down within an hour.
Fox 4 had local musician Noe Palma who is also a Kansas City firefighter in the studio Wednesday to play his new song when the fire broke out. Noe quickly switched roles and joined Nick Vasos and Kim Byrnes at the anchor desk to explain the firefighters' approach while looking at the scene. Noe referred to their technique as, "surround and drown."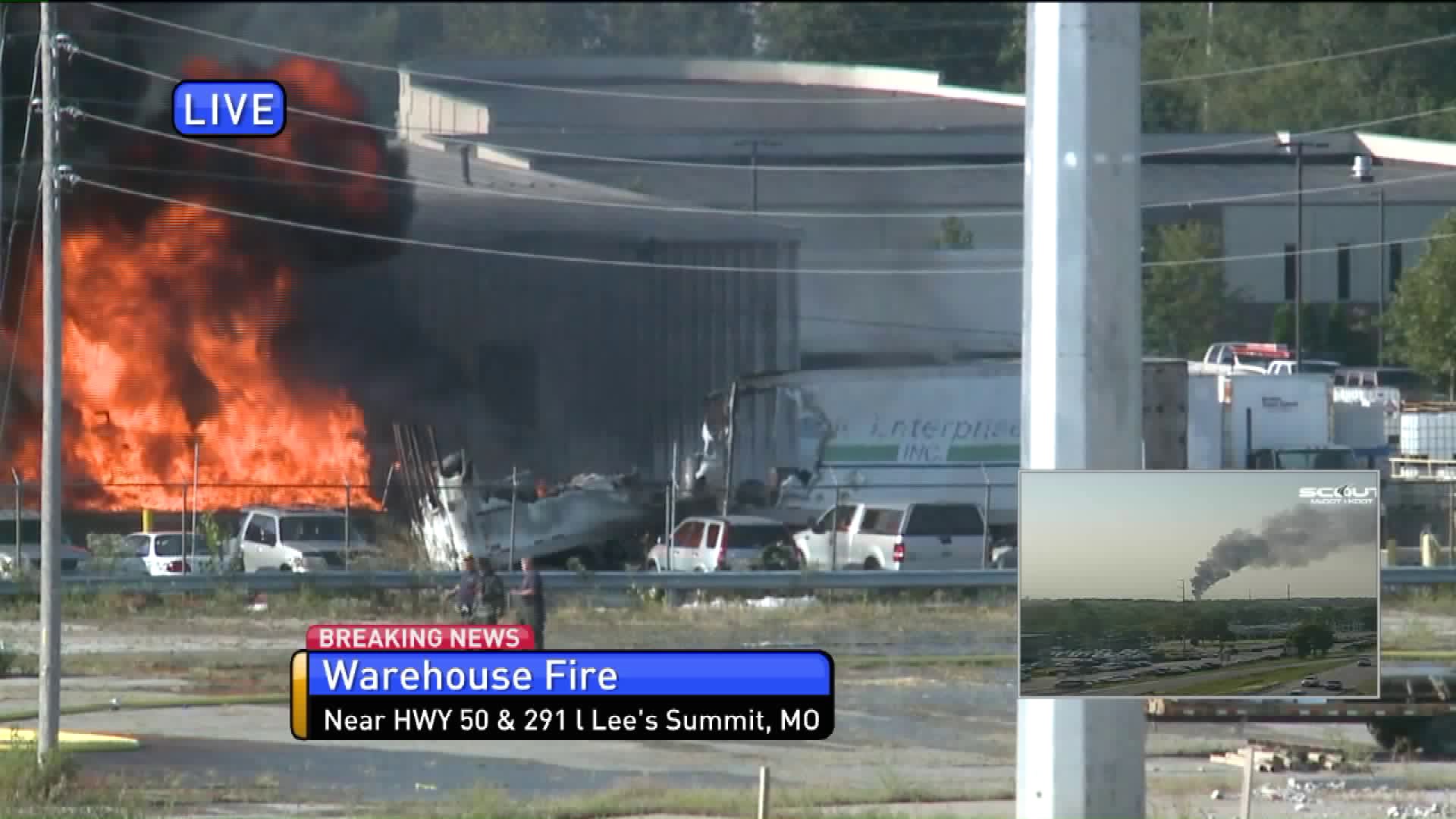 Ryan Gerding, the husband of Fox 4's morning show executive producer, also stopped by the scene to get video shortly after the fire broke out. You can watch that video in the video player below.  Ryan said his son was on his way to middle school when he first noticed the smoke. By 8:30 a.m., Ryan said at one point flames appeared to be shooting nearly 30 feet into the air outside of one of the buildings.