This is an archived article and the information in the article may be outdated. Please look at the time stamp on the story to see when it was last updated.
BLUE SPRINGS, Mo. – A Blue Springs High School senior is dead after a car crash Friday night. Nefertiti Smith, 17, was ejected from a car she was riding in with two other teens. Two other teens are in serious condition after the accident. According to the Missouri Highway Patrol, 17-year-old Tamerick Wright and 18-year-old Kenveion West were also ejected from the car. Wright was the driver.
"I kept texting her and calling her and she wouldn't answer and I knew something was bad because she would always text and call me," Kieon Moore, Smith's best friend, said.
The accident happened just before midnight near 470 and 50-Highway in Lee's Summit. According to The Missouri Highway Patrol, high speed caused Wright to lose control of the car, hit a guardrail and flip the car. All three teens were ejected.
Moore said she was with Smith Friday night at a party in Blue Springs. She said Smith left with the other two teens in a car but was supposed to come right back. Moore told FOX 4 she was texting Smith in the minutes leading up to the accident and knew something was wrong when Smith stopped responding.
Friends said Smith loved to cook and wanted to become a chef after high school.
"She was just a good person and she didn't deserve to go," friend Jahsmin Allen-Sherrod said.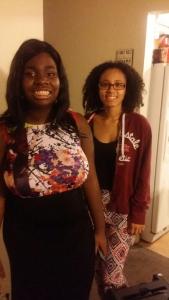 The group of friends said Smith was someone they always wanted to be around.
"Just a really nice, genuine person," Rayvon Lewis, who went to high school with Smith, said.
Wright and West, both of Kansas City, Mo., remain in serious condition as of Saturday night.
A GoFundMe.com account has been set up to help the family with funeral expenses.