This is an archived article and the information in the article may be outdated. Please look at the time stamp on the story to see when it was last updated.
BLUE SPRINGS, Mo — A Blue Springs police officer has spent the past eight days running across the state of Missouri to raise awareness and money for first-responders who have died or been injured in the line of duty.
Officer Keegan Hughes started near St. Louis and his journey will end Saturday when he runs into Kauffman Stadium.
Hughes finished the eighth leg of his journey Friday at Brittany Hill Middle School.
He's done a marathon each day and was running — until the middle of the seventh day when he injured his Achilles tendon. The journey has taken a toll on his body but has not injured his spirit.
"It would have been easy just to hang my head, but I made a promise to these families and to this community that we were going to do this," Hughes said.
It's been a special journey full of surprises.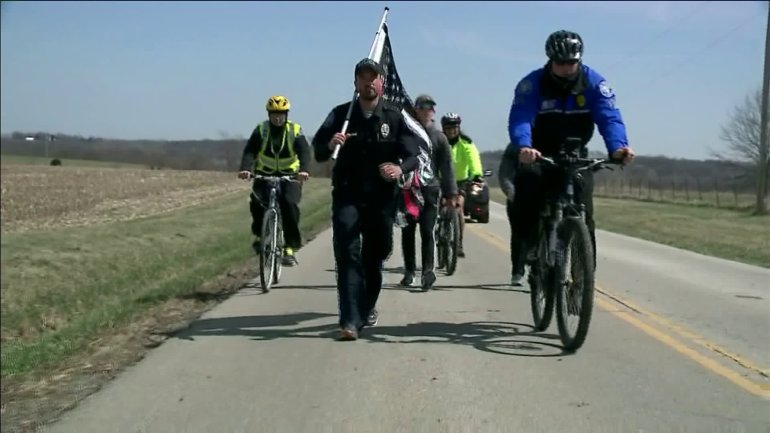 Hughes said Missouri Gov. Eric Greitens showed up without television cameras and ran 6 miles with Hughes. Another day, officers from the Blue Springs Police Department ran 30 miles with him.
"We knew it was going to be life changing, but this exceeded our expectations," said Hughes, who's been getting an overwhelming reaction from people along the way.
The journey hasn't been easy, but the good moments outweigh the bad.
"Just like now, we are at a hard point," Hughes said as he ran down a lonely country road near Fort Osage. "Through the windshield of your car, I can see that Fort Osage is here, and it is an honor to be able to go past them."
The flag Hughes carried Friday was in honor of Fort Osage Assistant Fire Chief Harold Hollingsworth, who died in the line of duty April 7, 2013.
The Fort Osage Fire Department showed up along the route to show Hughes they care about him, too, and to thank him for remembering their brother.
Hughes ends his journey Saturday. The flag he carries will be in honor of Independence police officer Tom Wagstaff, who was shot in the head last year and survived.
Hughes will also be carrying a baseball that he will run onto the field at Kauffman Stadium to give to Wagstaff for the first pitch. Only then will this journey be over.
"After I hand off the pitch to Officer Wagstaff, I am going to get out of my police uniform, I am going to find the biggest beer that the Kansas City Royals have and I am going to slowly drink it, and it is going to be a great moment," Hughes said.
Overall, Hughes honored 11 fallen first-responders, including Clinton police officers Gary Michael and Ryan Morton.
If you would like to donate to Project Remember, visit this site.