This is an archived article and the information in the article may be outdated. Please look at the time stamp on the story to see when it was last updated.
BELTON, Mo. -- On and off-duty firefighters have raised money for Muscular Dystrophy in communities accros the U.S. But, city leaders in Belton, Mo., are questioning the legality of on-duty firefighters collecting money.
"It's a huge time for us where we can collect money for kids and it benefits them locally here in our town," said Capt. Steve Kratofil of the Belton Fire Department.
Kratofil, who is also a representative for Local 42, said the men and women on the department look forward to Labor Day every year.
"We get to be out there if we're not on call, we get to interact with the public when we're out there, preaching awareness to the community and we're helping our local kids."
"Fill the boot" works by firefighters visiting busy intersections and collecting cash. Firetrucks are there, too, in case there is a call.
But, it could be different in Belton this year.
"It's about a policy issue whether or not we pay city employees to do charity fundraisers while on duty," said Belton City Manager Ron Trivitt.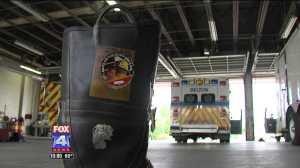 According to Trivitt, at a July council meeting, the Belton Fire Department asked permission to do "Fill the Boot" at a specific intersection. The request was approved, but the question of whether or not on-duty personnel would be involved -- when that answer was "yes," the issue arose.
"The main thing is, I don't want council to break the law and that's what's behind city attorney opinion too. He believes that would be a violation of the Constitution."
What's next for Belton firefighters, Fill the Boot?
Both sides said they are looking at legal opinions and hope to come to a resolution at the next council meeting on Tuesday.
Kratofil said no matter what happens, firefighters will be filling the boot Labor Day weekend, adding Belton has a reputation to protect. Every year, Belton firefighters raise more money, per capita, than any other department in the metro.