This is an archived article and the information in the article may be outdated. Please look at the time stamp on the story to see when it was last updated.
KANSAS CITY, Mo. — All lanes of I-29 near KCI are back open Monday night.
Both lanes of I-29 near Cookingham Drive were closed just after 8 p.m. due to a semi that was hauling cars was on fire.
The highway patrol tells FOX4 the fire only involved the semi and that the driver was not injured.
The cause of the fire is under investigation.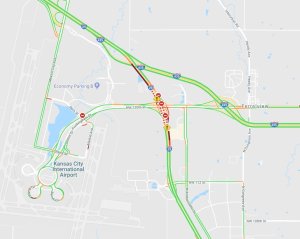 BREAKING: This is a semi, and it's right near KCI which could create issues if you're trying to catch a flight. Update on @fox4kc News at 9pm. https://t.co/4mQeBsCHr0

— John Holt (@JohnHoltNews) October 23, 2018