This is an archived article and the information in the article may be outdated. Please look at the time stamp on the story to see when it was last updated.
HARRISONVILLE, Mo. — The five-year old boy with autism who walked away from his house along 7 Highway south of Harrisonville at about 11:45 a.m. Tuesday was later found dead.
On Tuesday evening FOX 4's Mary Pulley confirmed from the scene that Tony Eugene "Gene" Cory-Ferguson was found dead in a neighbor's pond in about five feet of water.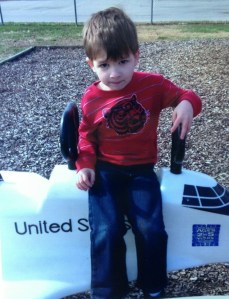 The tragic discovery ended an exhaustive search for the five-year-old. Acres of corn close to six-feet high, ditches and local shops were just a few places that searchers combed through looking for him. Civilian volunteers even used their personal planes to search high above the sky. They were initially urged to search with caution.
"I've been told with all the activity he may be frightened and be may be somewhere he can see us, and is just very frightened to come out," Captain Mitch Phillips with Cass County Sheriff's Office said during the search.
Sadly, that wasn't the case.  A Kansas City police helicopter and the Missouri Highway Patrol, Garden City Police and the Cass County Sheriff Department were all involved in the search for the missing little boy. Water rescuers joined in on the search soon after and found Gene in the pond.
It's unknown how long since the searching began that he'd been in there, but crews think it's possible he was there all along.
"None of our search and rescue dogs, none of our people located signs, trails, or tracks of him through the corn fields and the bean field or anything like that," Lieutenant Kevin Tieman with the Cass County Sheriff's Department said.
Gene had gone missing from his home several times before, but was always found in a matter of minutes. Deputies say he lived with his grandparents who had adopted him. They were too upset to speak Tuesday, but FOX 4 heard from Gene's mother before he was recovered, saying she was desperate to find him safe.
"The loss of a child is not easy for anybody, at this point we just want to make sure we do everything to help the family we can," Lt. Tieman said.
Earlier coverage: