This is an archived article and the information in the article may be outdated. Please look at the time stamp on the story to see when it was last updated.
OVERLAND PARK, Kan. — On the football field, obstacles are meant to be tackled. One young athlete from Johnson County will attest to that, as his moment in the spotlight saw him beating his own physical limitations.
All of his life, 7-year-old Ricky Cook-Alt says he's dreamed of one thing – a chance to play football just like any other second grader might.
"I was just hoping I could score a touchdown," Cook-Alt said.
"Little Ricky," as he's known to his family, was born with Arthrogryposis, a rare condition that caused the muscles in his arms and legs to grow too short while he was in utero. The second-grade student at Overland Park's Blue River Elementary School uses a wheelchair, but his courage and spirit are as strong as anyone's.
On Saturday, November 7, "Little Ricky" and his parents were on the sideline at Heritage Park, watching an 11-year-old friend suit up for the Football and Cheerleading Club of Johnson County, when one of the SMS Raiders' coaches ask him to get in the game.
"Do you want to be on the team?" Cook-Alt said, recalling the moment when coaches asked him to suit up. "I said yes."
"I couldn't believe I was going to get shoulder pads and a helmet on," he continued.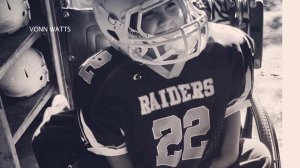 Once he was in a Raider uniform, coaches from both teams took it a step further, running 47-toss, a running play that gave Ricky's wheelchair a 10-yard push to the left. Various video clips capture cheers and tears of joy, as "Little Ricky" scored the touchdown he'd been dreaming of.
"It's tough," Ricky Cook-Alt, Sr. said, while fighting back tears of joy. "When you meet people like them, who make a dream come true not only for a dad but for a son, there aren't words to express it."
Richard Briggs, head coach for the SMS Raiders sixth-grade team, said coaches from both teams conspired to create this special moment. However, they didn't realize it would touch so many lives.
"This a great moment. A great moment," a tearful Briggs said.
"In real life, we're the handicapped people. This is his life. He's not handicapped. He just has to deal with what he's got — the cards he has to play with."
"Little Ricky" says the emotion of the day is hard to sum up in words, but it was a gesture that made a disabled football fan feel strong.
"I just felt amazing," Ricky Cook-Alt, Jr. said.
Ricky's run continued into the school week. When he came back to class at Blue River Elementary School on Monday, he was still sporting his football jersey and telling his friends that at last, he felt like he was part of a football team.
Pediatricians say Arthrogryposis affects one in every 3,000 live births. We found this website that offers more insight into the rare condition.
As for "Little Ricky," he says he wants to do it again next season, and perhaps score two touchdowns the second time around.