This is an archived article and the information in the article may be outdated. Please look at the time stamp on the story to see when it was last updated.
KANSAS CITY, Mo. — Ask soccer players and most will tell you that header goals are one of the best parts of the game.
Yet, there's growing concern that hitting your head multiple times with a soccer ball for years on end can cause permanent damage.
Wednesday night on FOX 4 News at 10 p.m., FOX 4's Meryl Lin McKean will tell us about two studies on head injuries in soccer players. The results will not bring you comfort if you are worried about the possible harmful effects of persistent heading of the soccer ball.
But researchers admit more thorough studies need to be conducted, while the players tell FOX 4's Meryl Lin, it's not something they're willing to give up.
It's important that players not be self-taught, but learn the proper technique. In FOX 4's special report Wednesday at 10 p.m. on soccer and brain injuries, you'll learn what else doctors and experts will tell you is important before you continue with header shots.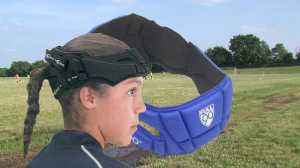 And what about the head protection seen in this picture? Tune in at 10 p.m. for how these perform in cushioning the head and brain.
Again, Wednesday night at 10 pm: Important information for you to consider if you are or have a soccer player taking header shots.