This is an archived article and the information in the article may be outdated. Please look at the time stamp on the story to see when it was last updated.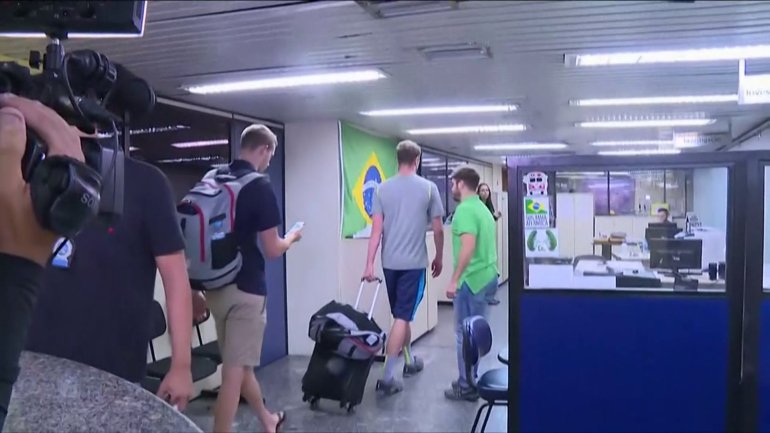 RIO DE JANEIRO, Brazil — According to the Associated Press, a Brazilian official claim Ryan Lochte and three other U.S. Olympic swimmers fabricated the claim that they were robbed at gunpoint. Instead, the official says the US Olympic swimmers were in a rowdy gas station confrontation. This is breaking news at 10:20 a.m. on Thursday. We will update the story, as new details come in from Brazil.
Earlier report:
American swimmers Gunnar Bentz and Jack Conger were ordered not to leave Brazil until they give a statement to police about a reported incident in which they and two other US swimmers say they were robbed in Rio de Janeiro early Sunday, an attorney for Bentz and Conger said. Both Bentz and Conger were taken off a plane for questioning as they were preparing to leave Rio.
Earlier, a Brazilian judge had issued a search and seizure warrant for American swimmers Ryan Lochte and James Feigen and the seizure of their passports. According to a statement by the Rio Justice tribunal, Judge Keyla Blanc De Cnop, of the Special Court of the Fan and Major Events, ordered search warrants for them. However, Lochte had already left Brazil and returned to the US.
Brazilian authorities said they have questions about what actually happened that night and that they have concerns over inconsistencies in different accounts of the events.
Conflicting accounts?
The robbery — during which a thief was said to have put a gun to Lochte's forehead — reportedly occurred after the athletes left a party at the French hospitality house. Lochte told Lauer from NBC on Wednesday, however, that the gunman pointed the gun at him, but it wasn't against his head. NBC is broadcasting the Games in Rio.
An attorney for Lochte, Jeff Ostrow, brushed off the discrepancy, saying the gun was pointed near his head, not against it, adding the difference was just "a matter of inches."
Civil police said the case attracted their attention because the victims said their phones and watches hadn't been stolen — items that are typically targeted by thieves in crime-plagued Rio.
Brazilian Judge Keyla Blanc De Cnop said the athletes' jocular behavior upon arrival at the Olympic Village — combined with the inconsistencies in their statements — led police to question the veracity of their claim.
The judge noted that Lochte had said a single robber approached the athletes and demanded all their money (400 real, or $124), while Feigen's statement said a number of robbers targeted the athletes but only one was armed.
Ostrow denied that the accounts significantly differed, telling CNN that the stories of all four victims line up "95%."
Lochte's mom speaks to the media
Initial reports regarding the robbery were confusing, with an International Olympic Committee spokesman first claiming they were "absolutely not true" at a press conference Sunday.
He later backtracked and apologized, saying he was relying on initial information from the US Olympic Committee that was incorrect.
Ostrow told CNN that the discrepancy came because Lochte first told his mother about the incident, and then she told the media about it.
Lochte held off on going to the media until he realized he was not in violation of any USOC rules, but by that time, the story had already gone public, Ostrow said.
And public speculation was fueled by the release of a video obtained by the Daily Mail, which it said was filmed shortly after the robbery.
The video appears to show the four swimmers returning to the Olympic Village, and in possession of high-value items that might be expected to have been taken in an armed robbery.
CNN is unable to authenticate the video.
Ostrow said the video doesn't show a complete picture of what actually happened, especially considering there is no audio.
"That video shows me nothing — it shows guys coming home at six or seven in the morning and shows me they're happy that they're alive," he said.
String of thefts
Ostrow suggested the swimmers were being unfairly targeted by authorities.
"When you have one of America's athletes who comes out and said something happened to him that happens to people there every single day," Jeff Ostrow told CNN over the phone Thursday, "that doesn't look good for a country trying to have a successful Olympics."
The swimmers are not the only athletes in Rio to complain of theft.
The British Olympic Association told CNN on Thursday that one of its athletes had been a victim of theft in Rio.
"We can confirm there has been an incident of theft involving a Team GB athlete returning to their accommodation. All members of our delegation, including the individual concerned, are accounted for, and are safe and well," a spokesperson said.
The Australian team also said they had property stolen during an evacuation of the team's building.
'He's the victim'
The plane incident Wednesday night follows reports that a Brazilian judge issued a search and seizure warrant for Lochte and Feigen's passports as questions emerged about their accounts of the incident.
It's not clear where Feigen is.
Federal police say Lochte left Brazil on Monday on a commercial flight, two days before the judicial order.
Ostrow confirmed to CNN earlier his client his client is back in the United States.
"He's the victim. He didn't commit a crime. Same with the other guys," Ostrow said.
"The story needs to be about 20-something-year-old kids pulled off an airplane, they're being detained to testify to police?" Ostrow said. "C'mon."
Sergio Riera, an attorney for Conger and Bentz, said the swimmers were frightened and confused as to why they had been taken off their flight and over what they were being ordered to do by different authorities.
"Until that confusion is resolved, they won't be making statements [to police], but will later obviously be prepared to cooperate in whatever the police require," Riera said.
It's not clear if the two had their passports confiscated.
Brazilian civil police say they are still looking for the taxi driver the athletes say they were with when they were robbed. Police say they have asked the driver to come forward.