This is an archived article and the information in the article may be outdated. Please look at the time stamp on the story to see when it was last updated.
KANSAS CITY, Mo. -- A shoplifter swiped hundreds of dollars of clothes and accessories from the shelves of a Brookside business, and it was all caught on camera.
"$300 here and $500 there and $600 here and $50 here -- it adds up to a lot of money," said Mindy Diaz, the owner of Design in the City.
It's not the first time someone has stolen from Diaz.
She's had a shop in Briarcliff for 12 years and opened another location in Brookside about 6 months ago.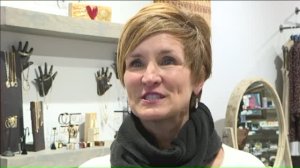 "We're a very small business, and people think we live large, but we're just a little mom-and-pop store," Diaz said.
Despite the multiple surveillance cameras, just last week, she said someone came into the Brookside location and just started helping themselves to merchandise.
She said it happened as her husband helped another customer.
"There was some small children that came in to buy a Valentine's Gift for their mother, and while they were shopping and he was helping them, she helped herself to several pieces of clothing and jewelry," Diaz said.
Watch the surveillance footage in the video player above. 
In the video, you can see the woman shoving clothing into her large purse.
"So that hurts our bottom line," Diaz said. "I mean, this is the month of February. No store owner loves the months of January and February because it's so cold outside and nobody wants to buy anything, and nobody wants to shop. So when you lose $300 out the door, it hurts your bottom dollar."
Diaz said the woman took a pair of denim jeans, a sweatshirt, reading glasses and a Kendra Scott bracelet -- all adding up to hundreds of dollars.
"Nobody would want me to come in their home and steal from them, and that's really what they do," she said. "I mean, this is my home. I spend 80 hours a week here between the two stores, and you know, it's sad when somebody comes and steals from you and they take food off your plate."
Diaz posted the video on her store Facebook page, hoping a customer will be able to identify the thief.
It's been shared all over social media and has more than 71,000 views. Diaz said several people have sent her a private message -- all with the same name.
Now Diaz thinks she know who this woman is, and she's passed the identity along to police.
"If you're going to be out there stealing from us, you might pop up on our Facebook page, and your friends might see it," Diaz said. "And you know, if it's a little embarrassing, I`m sorry about that. But unfortunately, it's not right to steal from someone."
A police report has been filed, and Diaz is hoping to recover the stolen items. If you recognize the woman in the video or notice her trying to sell the stolen items, call police.