This is an archived article and the information in the article may be outdated. Please look at the time stamp on the story to see when it was last updated.
KANSAS CITY, Mo. — Two firefighters were killed in an apartment fire and building collapse on Monday night at Independence and Prospect. They were among four who were injured fighting the two-alarm fire.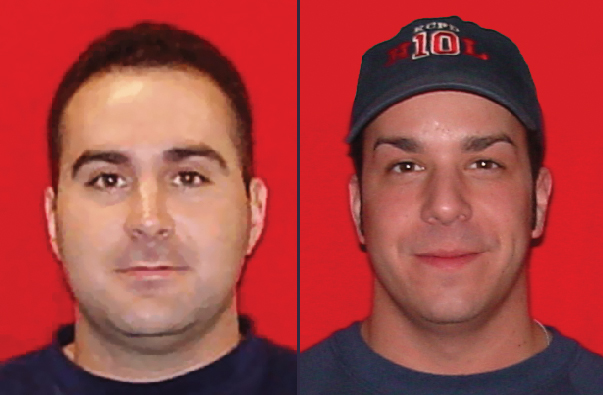 The fallen firefighters have been identified as Larry Leggio, 43, of Truck 2.  Leggio was a 17-year veteran and Fire Apparatus Operator. He leaves behind a wife and mother and immediate family members.
John Mesh, 39, of Pumper 10 leaves behind a wife and four young daughters.   He was a 13-year veteran. Scroll down to the bottom of the story for information on where you can make tax-deductible donations.
On Tuesday, Missouri Gov. Jay Nixon ordered that all U.S. and Missouri flags being flown in front of government buildings in Jackson County immediately be lowered to half-staff to honor both Mesh and Leggio. He said the flags are to remain there through the dates of the funerals for both men.
"Our hearts absolutely go out to the family; both to their peers who are grieving, but also their family members who are at the hospital now," KCFD Chief Paul Berardi told reporters at the scene.
"The compassion of the community has been amazing," Chief Berardi later said during a news conference on Tuesday. "I especially want to give thanks to KCPD and Truman Medical Center as well as all other partner agencies that work with us daily to serve Kansas City to protect the public."
Kansas City Mayor Sly James released the following statement:
"Tonight's tragic loss is a reminder that Kansas City firefighters put their lives on the line for all of us every day. Our condolences go out to the loved ones of those who made the ultimate sacrifice today, and we pray for recovery of the injured."
"The only thought that I have is thoughts for the family of the, particularly the children of firefighter Mesh," Mayor James later said during a news conference. "Unfortunately, situations like this really bring home to all of us the danger that firefighters and police officers confront every day and what the consequences of those dangers are."
Assistant House Minority Leader Gail McCann Beatty also issued the following statement:
"Missouri House Democrats are deeply saddened by the loss of Kansas City firefighters Larry J. Leggio and John V. Mesh and are hoping for the speedy recovery of two others injured Monday in a building collapse. Words cannot describe the debt we owe to these men and their families for sacrificing so much in order to protect the lives of others."
The fire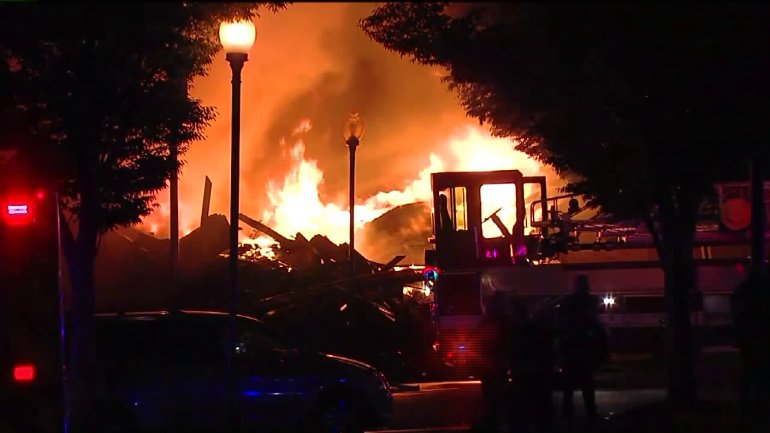 Crews arrived to the fire at about 7:30 p.m. on Monday, and brought two people out the building. Flames could be seen shooting out of the commercial and residential structure. It quickly escalated and a full 2nd alarm was requested. Crews were trying to suppress the fire and also conducting rescue operations. Then they shifted into defensive operation.
"In defensive operations, all firefighters are required to evacuate the structure and all personnel are to be accounted for," Chief Berardi said. "Evacuation was ordered at 7:52 p.m., and at approximately 8:07 p.m., a collapse was reported on the east side of the structure."
"When I say we went to defensive mode, we went to defensive mode and when I mentioned that all of those that we give a personal accountability report- which is called a 'PAR' in our world. A PAR was received probably, I don't know exactly, but probably at 7:55 p.m.,  7:58 p.m.,  I can't remember exactly," he added.
https://twitter.com/kbanksreports/status/653744931899510784/video/1
"Two mayday calls were received from the collapsed area indicating firefighters in urgent distress," Chief Berardi adds, referring to the four firefighters that were trapped. "They located, uncovered and removed, four firefighters from the immediate area."
Ambulances on the scene transported the four injured firefighters to nearby hospitals immediately.
The first ambulance arrived at Truman Medical Center just before 8:20 p.m. and the second ambulance arrived at 8:21 p.m. Leggio and Mesh were pronounced dead at the hospital after paramedics, nurses and doctors tried to revive them.
Shortly after, the other two firefighters were transported to nearby hospital. One was taken to KU Med Center to be treated. The other was taken to St. Luke's with non-emergency injuries. One of the two firefighters injured was expected to stay in the hospital overnight, while the other was expected to be released Monday night.
The cause
Chief Berardi says a complete investigation is underway with the KCPD and ATF.  He adds that ATF was called in because of expertise. So far, there is no indication of arson. The cause of the fire is still under investigation.
"Initially it looked as if it was a backdraft, but it appears now that the second floor collapsed inside the structure forcing the smoke and fire out the front or the A side of the structure," Chief Berardi said. "And that smoke and fire was pushed out probably 20 to 30 feet in addition to pushing the smoke out it also pushed the east wall and it didn't fall like a normal collapse. It was actually pushed out at least 30 feet."
Their legacy
Calling this "the worst day", Chief Berardi spoke about the heroism of the firefighters that died, noting the lives they saved.
"It's difficult when you live with somebody for 24 hours a day, and you're laughing and joking one minute and then something like this happens in the line of duty," Chief Berardi said.
"What is good for their families to remember is that they did not die in vain, they saved two civilians, carried them out of the second floor on ladders before the wall collapsed."
"One thing about last night is I'm extremely proud of the professionalism of on-scene personnel as well as the response to the tragedy in these times what helps us get thru these times is how professional the department responded and how we reacted to the situation," Chief Berardi said.
Memorial Funds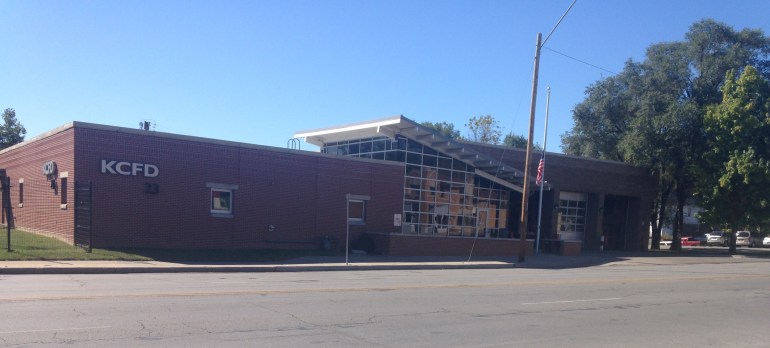 A fund to support the families of fallen firefighters is available through IAFF Local 42. Tax-deductible donations will be given to the families of firefighters Leggio and Mesh. Donations can be made by check, payable to IAFF Local 42 and should be sent to 6320 Manchester Ave., Suite 42A; Kansas City, MO 64133.
FOX 4 will report the latest developments as more information is released. Tune into FOX 4 newscasts for a compilation of all the information and developments and check in to the FOX 4 app and website for new information throughout the day from our reporters.
A source tells me funeral services for two fallen @KCMOFireDept members could held at @SprintCenter to accommodate a huge crowd @fox4kc

— Sean McDowell (@seanfox4kc) October 13, 2015