This is an archived article and the information in the article may be outdated. Please look at the time stamp on the story to see when it was last updated.
KANSAS CITY, Kan. — A KCK family was not only without presents this Christmas, but also many of their belongings after their house was burglarized.
But one Grinch wasn't going to ruin this family's holiday.
"It's not the Christmas I thought it was going to be," Lisa Olliso said.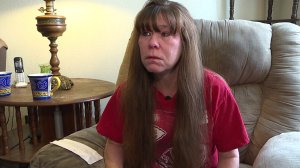 Olliso said while she was at the grocery store on Christmas Eve, burglars – not elves – went to work in her home.
"Came home to the door was kicked in and all of my stuff was missing," she said.
Christmas presents, two TVs, her son's gaming consoles and even some of their clothing were all gone.
"I don't have much to begin with and to have it all taken away — I don't know what to think," Olliso said.
Olliso and her two teenage sons moved in just two weeks ago.
She said she doesn't understand how someone could do this, especially at Christmas.
"Shame on them for taking things from children," Olliso said. "What kind of person takes a child's clothes?"
While she knows things are hard now, Olliso said, you have to have faith.
"When you go through hardship, keep your chin up and look to the Lord, and things will get better," she said.