This is an archived article and the information in the article may be outdated. Please look at the time stamp on the story to see when it was last updated.
KANSAS CITY, Mo. -- A burglar who broke into a home near 55th and Holmes Friday afternoon left behind what looked like a homicide scene in the kitchen, after stabbing the home's 11-year-old bulldog in the face.
The homeowner, C.J. Hutto, is grateful to a lot of people for the way they handled the attack on his best friend.  He thanks the shelter, the veterinarian, and the police officer who continued to try to get in touch with Hutto because he didn't want Hutto to come home to the disturbing mess at his house.
"When I first got home and the police had left a message, we thought she'd been shot. The kitchen was a homicide scene, it seemed like. Once I got her to the emergency veterinary care, the surgeon did a skull x-ray and everything, and said that he believed she had been stabbed," said Hutto.
After further evaluation, it was determined Grace Ann had been stabbed three times in the face.  Once slash is above the eye, one on her jowl, and another through her nose.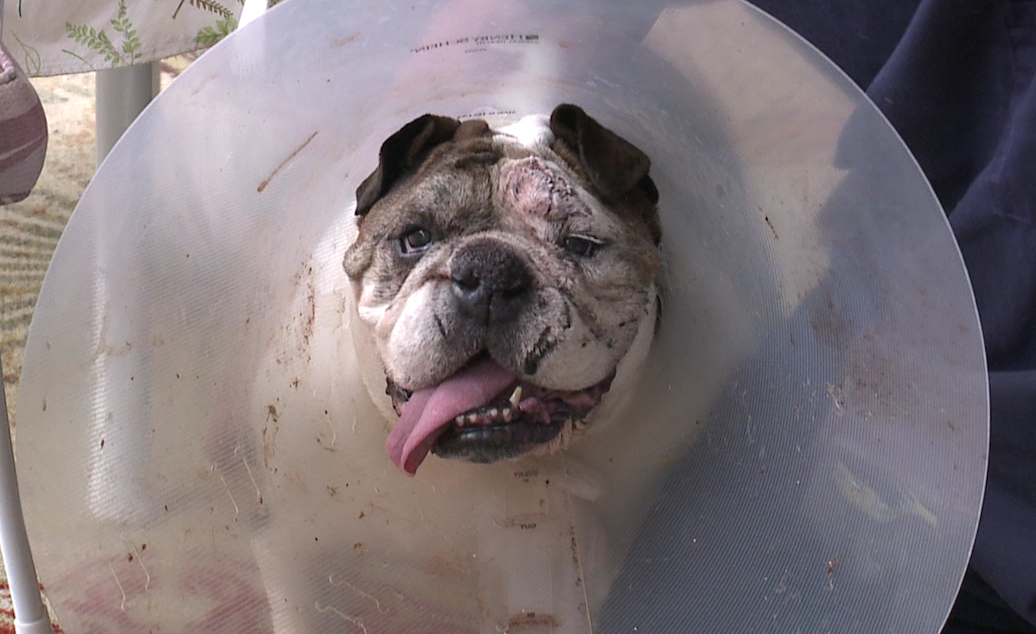 "Her nose was partially sliced off. Because that's not a place that gets a lot circulation, they're not certain that will be salvageable," Hutto said.
Hutto had been working all day on Friday when he arrived home at about 5:30 p.m.
There was a green slip on his door, which he says he didn't pay attention to because people often leave fliers on his door.
"But I went to open the door, the door was unlocked. So I thought that was strange so I read the slip and it said, 'Your dog was shot, taken to the shelter.'"
"I became frantic at that point," said Hutto. "There was glass everywhere and the kitchen, there was a lot of blood."
"Frantic to crazy. You go there fast," he said.
With little time remaining to get to the shelter before it closed at 6:00 p.m., Hutto arrived just in time. He took her to a veterinarian to further treat her injuries.
"She's gonna be alright. Her eyesight is fine," said Hutto. "She whines a lot. She whines all the time so I just try to be close to her. Because I don't know what she's saying, I give her her pain medication on time, I give her her antibiotics on time."
Hutto says there's some jewelry missing from his home.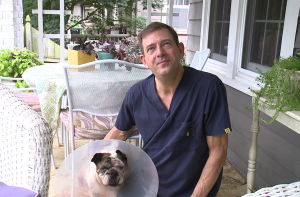 "Those are just material things. The whole door in the back will have to be replaced. They weren't too kind to the door, but they were less kind to this beautiful dog here," he said.
Hutto was especially grateful to the persistent police officer, who stayed with Grace Ann until the shelter arrived to pick her up. He also repeatedly tried to reach Hutto to make sure Hutto knew what he was walking into when he got home.
"There was a wonderful officer that kept trying to call me," he said. "He stayed her 'til the rescue came, and that was a couple of hours.  He kept trying to call me and when I reached him he said he wanted to make sure I didn't come home to this."
The burglar took a few pieces of jewelry from the homeowner before the alarm sounded.  Hutto reminds people not to do what he did: Keep jewelry in the bedroom where thieves are first to check.