KANSAS CITY, Kan. — The trial for an accused cop killer has been delayed again.
Antoine Fielder's capital murder trial is now scheduled to begin in February 2025.
The trial was scheduled to start in September until a judge rescheduled it during a hearing Tuesday. It is the third time Fielder's trial has been delayed since he was charged in 2018.
The 2025 trial date will be more than six years after Fielder allegedly shot and killed Wyandotte County Deputy Patrick Rohrer and Deputy Theresa King.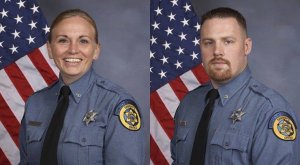 The two sheriff's deputies died on June 15, 2018.
Prosecutors said a shackled Fielder allegedly took one of the deputies' guns and fired at them while he was being transported.
In addition to two counts of capital murder, Fielder is also charged with aggravated robbery for allegedly stealing the gun from one of the deputies to use in the shooting.
"It was pretty devastating, it's like nothing else," Austin King, Deputy Theresa King's son said.
Five years later, the hardest part kings tells FOX4 was having to tell his sister who was only seven at the time, that their mom was not going to be OK.
'It was pretty heartbreaking watching a little girl – kind of realize she's not going to have a mommy anymore," King said.
Fielders' Lawyer have not responded to FOX4's request for comment. Deputy King's son just wants justice. Something he says so far he's been denied of.
"Quit pushing this back, quit allowing the defense more time," King said. They've had plenty of time, they've had five years now."