This is an archived article and the information in the article may be outdated. Please look at the time stamp on the story to see when it was last updated.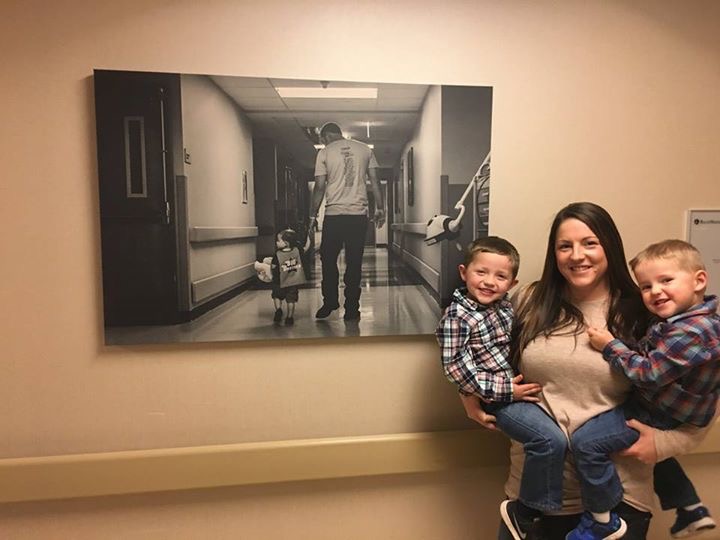 INDEPENDENCE, Mo. — A photo captures a moment in time and preserves it forever. The large photos lining the halls at Centerpoint Medical Center's Mother/Baby Unit feature some of their subjects' most cherished memories.
For Lauren Nixson, the photo of her husband and young son that hangs on the wall of the medical center is a bittersweet reminder.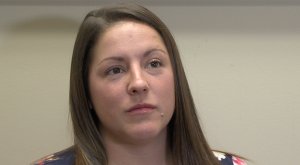 The 32 x 48″ black-and-white piece, taken Aug. 14, 2014, features Adam Nixson and his then 2-year-old son, James, clad in a cape that says "Big Brother" and carrying a stuffed animal. The two walk hand-in-hand down a Centerpoint hallway, on their way to see Lauren and meet the newest addition to the family: baby Miles, born earlier that day.
Lauren is a nurse on the unit, and sees the photo every day. It's a beautiful moment, but what gives the photo so much more weight is that Adam died in a hunting accident in 2015.
"While our little family has experienced an incredible heartache since the loss of my husband, it is a joy to celebrate one of the special moments that we shared during his lifetime through this photograph," Lauren said. "It helps to honor and remember him as I keep his memory alive for me and our sons."
"Here at Centerpoint Medical Center, we have the most extraordinary, caring employees I've ever had the privilege to work with," Centerpoint Medical Center Chief Executive Officer David Williams said in a statement. "Their compassion for patients, regardless of the situation, is genuine and heartfelt. The nursing team on the Mother/Baby unit collaborated with local photographers to capture the beauty of life and create a public gallery that now hangs in the hallways. And that one of nurses, Lauren Nixson, has such a personal relationship with one of the photographs illustrates the indescribable human connection we see every day at the hospital."
Sali Harrison, Stout Photography; Anna McGhee, Anna-Marie Photography; and Jenine Evinger Photography all donated their talents to capture the moments that now line the halls.