This is an archived article and the information in the article may be outdated. Please look at the time stamp on the story to see when it was last updated.
MOUNT PLEASANT, Mich. — Dispatchers have confirmed that the shooter, James Eric Davis Jr. is now in police custody.
According to a statement made by Central Michigan University, the suspect was seen by a person on a train that was passing through the north end of campus shortly after midnight. That person then called police to notify them.
Davis was arrested without incident.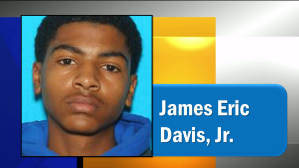 Students were made aware by the CMU Alert System.
Police say the shooting was a "domestic situation." The two people killed were not students, staff or faculty at CMU.
This is a developing story.  Watch Fox 4 for updates, or keep an eye on fox4kc.com or the Fox 4 app.