This is an archived article and the information in the article may be outdated. Please look at the time stamp on the story to see when it was last updated.
CLINTON, Mo. — CenturyLink, the phone company that provides service to Henry County, Missouri, says it provided the correct phone number and address in a location mix-up that led to a Clinton police officer's death.
"We conducted a thorough investigation which shows that when the 911 call was placed, CenturyLink provided the correct phone number and address," a company spokesman said.
That statement contradicts one made by the Henry County 911 Board chairman last week that said they believed a database was to blame for the error.
Last week, Kenneth Scott, the chairman of the Henry County 911 Emergency Communications Board, said they believed the location mix-up was due to an error in the Master Street Address Guide database, which CenturyLink provided for the county.
But if CenturyLink's investigation is accurate, that could mean the technology behind county's dispatching system was the problem. The Missouri State Highway Patrol is still  investigating the official cause of the error.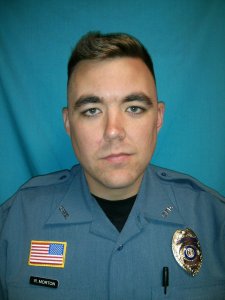 Scott said the 911 call that spurred dispatching Officer Christopher Ryan Morton and other officers came from a landline phone and lasted about 45 seconds.
But the call-taker wasn't able to speak to anyone directly. All the 911 operator could hear was women yelling, so the call-taker was dependent on the technology and database behind the 911 center to figure out where to send officers.
Morton was killed while responding to that 911 call, originally traced to a Clinton home on Grandriver Street. When officers entered the home, they encountered 37-year-old James E. Waters, who fatally shot Morton and injured two other officers.
Officials later said the Clinton officers were actually sent to the wrong house. Further investigation traced the phone number from the 911 call to a Windsor, Missouri, address instead.