This is an archived article and the information in the article may be outdated. Please look at the time stamp on the story to see when it was last updated.
KANSAS CITY, Mo. — A 25-year-old man is facing charges after police say he carjacked two women on Tuesday, forcing one victim out at gunpoint and pushing another out of a moving car.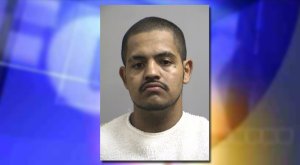 Edwardo I. Escobar is charged with 1st degree robbery and armed criminal action after he allegedly approached a 63-year-old driver and a 91-year-old passenger while they were parked at a Walgreen's on Independence Avenue, and demanded the driver get out.
Court documents say after forcing the driver out at gunpoint, Escobar began driving away with the 91-year-old driver still in the passenger seat.
"The 91-year-old was still sitting in the passenger seat when the individual got in the car and started to take off," said Darin Snapp, of the KCPD. "They had a short exchange of conversation. She said, 'Are you stealing my car?' He said 'Yes.'  That's when he forces her out of the passenger's door, pushes her out. The vehicle is still moving when she is thrown out."
Police say the elderly woman suffered injuries to her back and hip, but she's lucky it's mostly bruises.
As officers arrived at the scene, they learned that one victim had an iPhone still in the car. Officers contacted that victim's son, who was able to locate the phone using the Find My iPhone app, and directed officers to the phone's location.
When officers located the vehicle at 50th and Park, Escobar reportedly led police on a high speed chase, ignoring traffic signals and at times topping 90 mph until he ran off the roadway on Brink Meyers Road. He then attempted to flee on foot, but was taken into custody by officers.
Prosecutors have requested a $75,000 cash bond.