This is an archived article and the information in the article may be outdated. Please look at the time stamp on the story to see when it was last updated.
SALEM, Mo. — A southern Missouri man with a burning marijuana leaf tattooed on his face says that he's out to "smoke" the competition in the 2016 U.S. Senate race.
According to the Salem (Mo.) News, 56-year-old Chief Wana Dubie—given name Joseph Bickell—announced his run for the seat currently held by Republican Sen. Roy Blunt in next year's general election in front of nearly 100 supporters on the Dent County Courthouse in Southern Missouri on Wednesday afternoon.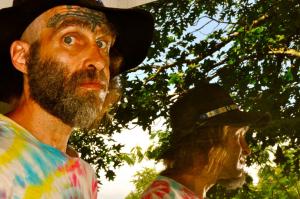 "It's going to be Dubie versus Blunt in 2016," said Wana Dubie, who previously ran for the Missouri House of Representatives in 2006 as a Libertarian—receiving 556 votes.
This time, Wana Dubie says he's running as an independent.
Wana Dubie, the subject of a 2011 documentary film, was sentenced to prison in 1997 and served five years after growing 135 marijuana plants in his front yard while declaring that he had seceded from the United States.
Democrat and Missouri Secretary of State Jason Kander has also announced his intention to seek the U.S. Senate seat against Blunt.