This is an archived article and the information in the article may be outdated. Please look at the time stamp on the story to see when it was last updated.
KANSAS CITY, Mo. — The Kansas City Chiefs hosted the Houston Texans on Thursday night at Arrowhead in the team's preseason opener, and new this year, the team added the Ford Tailgate District, dubbed "a party zone" on the team's website.
It's free to enter and seemed to be a hit with fans who didn't want to bring their own grills, yard games or sound systems. Located at Founders Plaza outside the stadium, it features food trucks, cocktails and beer, corn hole and live music.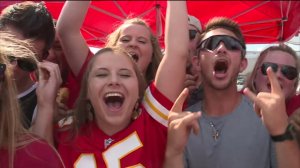 "I love it. It gives families a good place to come and hang out with great singers. I love it," Greg McCubbins said.
Some fans prefer the traditional tailgates behind their vehicles.
"If they can top mine, we will have to check it out, but we are having filet mignon in a little while," Mike Ragans said.
Some fans were celebrating milestones.
"I'm the ultimate Chiefs fan, and to spend my 40th birthday at Arrowhead is the best thing ever," Gheia Turk said.
Most were celebrating the start of a new era for the team.
 "Welcome to the rise of Mahomes," Tim Oerman said.
 "We're going to find out today if he's the true blue, or red as we should say here, and hopefully he's going to take us to the promise land," said John Rafti, who traveled from New Jersey to attend the game.
See more of the pre-game fun in the video player above.