This is an archived article and the information in the article may be outdated. Please look at the time stamp on the story to see when it was last updated.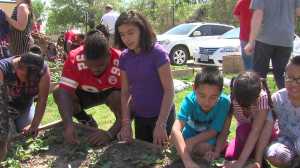 KANSAS CITY, Mo. — Members of the Kansas City Chiefs took a little time off from training to get their hands dirty.
The Chiefs Community Caring Team, including the team's defensive linemen spent Monday afternoon at Frances Willard Elementary School in Kansas City, Kansas.
They spent time in the school's garden, and helped teach kids how to plant vegetables.
The afternoon turned out to be a learning time for everyone involved.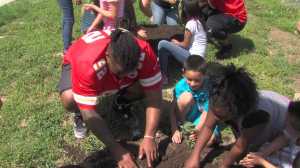 "It's kind of different for us to be planting, not too many of us have did that, you know. We put our hands in dirt, but not in this fashion so it's fun to come out here with the kids and do it," said Chiefs Defensive Tackle Dontari Poe.
After spending time planting a garden, the Chiefs signed autographs for students.