This is an archived article and the information in the article may be outdated. Please look at the time stamp on the story to see when it was last updated.
KANSAS CITY, Mo.  — Shortly before 3 p.m. Sunday, Kansas City Chiefs running back Jamaal Charles left in the third quarter against the Chicago Bears with an injured right knee. The Chiefs lost to the Bears 18 to 17.
Charles was hurt on a carry deep in Chicago territory, as he was cutting left at the line and went down with a non-contact injury.
Charles didn't put any weight on his right leg while being helped off the field by a trainer and teammate Justin Houston.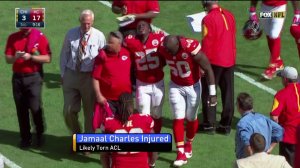 Coach Andy Reid says the preliminary diagnosis is a torn Anterior Cruciate Ligament or ACL.
Charles is scheduled to have an MRI on Monday. Officials say there is a definite possibility Charles will be out for some time.