This is an archived article and the information in the article may be outdated. Please look at the time stamp on the story to see when it was last updated.
Sammy Watkins - V Foundation for Cancer Research

Nick Allegretti - Uplifting Athletes

Dustin Colquitt - Teamsmile

Cam Erving - American Cancer Society & V Foundation for Cancer Research

Ryan Hunter - Rally Cap Sports & KC Pet Project

Derrick Nnadi - Virginia Beach Tragedy Fund

Mitchell Schwartz - Fuel Up To Play 60

KC Wolf - Convoy of Hope

Andrew Wylie - United States Armed Forces

Emmanuel Ogbah - Prostate Cancer Foundation

Anthony Sherman - E3 Foundation

Daniel Sorensen - Parkinson's Foundation & Multiple System Atrophy Coalition

Juan Thornhill - Suicide Prevention

Andy Reid - Laurel House
KANSAS CITY, Mo. — Expect Sunday's game between the Kansas City Chiefs and the New England Patriots to be a little more colorful than usual.
This is the third season the NFL is allowing players to wear custom cleats for one game.
The specially-designed shoes will highlight causes close to the hearts of players. The cleats will eventually be auctioned off to raised money to charities of their choices.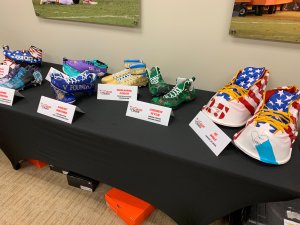 Players are showing off the designs today as well as the stories behind their causes. Keep an eye on the social media accounts of your favorite stars to read why they chose the charity they did.
The players aren't the only ones who get to participate, either. Check out the photo gallery to find out what Head Coach Andy Reid and KC Wolf are going to be wearing!
Many players worked directly with Nike, Adidas and Under Armour to create their designs.  But several members of the Chiefs worked with an independent designer on their creations.  Meet him on FOX4 News in a special story airing tonight, Dec. 4.