This is an archived article and the information in the article may be outdated. Please look at the time stamp on the story to see when it was last updated.
KANSAS CITY, Mo. — What do you do when your child gets hurt and the pain never goes away — sometimes stretching into years?
It's called amplified pain syndrome, and the Amplified Pain Clinic at Children's Mercy Hospital in KCMO is successfully treating children and teenagers who struggle with the chronic, debilitating pain.
Amplified pain is an umbrella term that can encompass many different types of pain.
The initial pain may be due to illness or injury, but it becomes amplified when the nerves become overactive and begin to fire abnormally. Those signals can act on blood vessels and cause additional autonomic symptoms. It also causes tremendous stress for young people as the pain makes it difficult or even impossible to enjoy activities and attend school.
Seventeen-year-old Emily Taylor has spent the past six years searching for pain relief from a fractured vertebrae.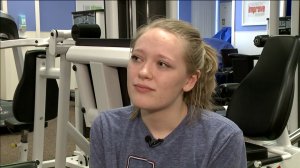 It led her from her home in Bentonville, Arkansas, to seek help at Children's Mercy in Kansas City, which offers one of only about 10 amplified pain programs in the country.
She's learning valuable therapies and tools that now help her manage her pain without medication.
Learn more about Emily's story and the work being done at Children's Mercy in the video player above.
If your child struggles with chronic pain, the Children's Mercy staff suggests you start by attending their one-day community workshop, Comfort Ability. It's for parents and children, ages 10 to 19, and you don't have to be a patient to enroll. It costs $90. The next workshop is set for April 14.
You can learn more about the workshop and other aspects of the Children's Mercy Comprehensive Pain Management Program here.