This is an archived article and the information in the article may be outdated. Please look at the time stamp on the story to see when it was last updated.
KANSAS CITY, Mo. — A Kansas City church congregation was shocked and saddened when someone started a fire inside the church and left racist messages scrawled on the entrance doors. Prosecutors now say it was a church employee who did it, in an attempt to cover up a burglary.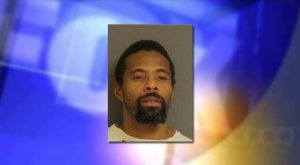 Nathaniel D. Nelson, 48, is in federal custody facing charges Monday. Nelson was a member of the church who was employed as a maintenance worker at Concord Fortress of Hope church and cultural center at 11040 W. Longview Parkway in Kansas City, Mo.
Firefighters were called to the church Sunday morning after a fire occurred inside the building, but it was extinguished by the sprinkler system.
Investigators discovered that the fire had been intentionally set, and also found racist graffiti spray painted on the front of the church. Investigators also discovered that surveillance cameras in several areas had been unplugged and were no longer recording when the incident took place.
However, footage on a second, separate surveillance system captured footage of Nelson spray painting the graffiti, prosecutors say.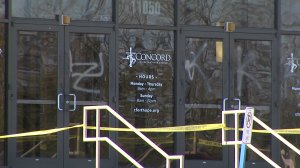 When interviewed by authorities, Nelson admitted he went into his office in the cultural center to smoke crack cocaine, and then attempted to break into the finance office to steal money. He said he wasn't able to enter the finance office, so he went to two other offices and took $140 from one and $94 from another, before leaving to purchase more crack cocaine.
He said he then returned to the church to use drugs again, then used tools to break into vending machines, but only managed to steal $2 from the machines.
After leaving to purchase more drugs, he returned to the church, prosecutors say, then intentionally set the fire inside the cultural center using clothing and paper towels that he placed on or next to an office chair. He admitted to investigators that he set the fire to create a diversion and throw investigators off.