This is an archived article and the information in the article may be outdated. Please look at the time stamp on the story to see when it was last updated.
OLATHE, Kan. — While chaos was unfolding at Austins following Wednesday's shooting, 100 yards away about 80 kids were attending a children's program at First Baptist Church across the street. Now that church plans to host a prayer vigil Friday night to help the community heal.
The church will be open from 6 to 8 p.m. for conversation with prayers starting at 7 p.m. The pastor, Jay Peach, says everyone in the community is welcome, and he feels it's the church's job to provide a safe place for healing.
The church pastor says some of the youngest children were outside playing with sidewalk chalk and could actually hear the gunfire. He adds that many of the youngsters' parents were across the street at Austins when the shooting occurred.
"I do believe that it is our job as a church community to be available in times like these community members can be brought together, and it's a horrible thing to happen," pastor Peach said. "It's a horrible thing, and the hatred behind it is something that some thing that is beyond what you can process on their own."
Federal investigators looking into deadly Austins Bar and Grill shooting as a possible hate crime
According to the pastor, the church was immediately put on lockdown, and all of the kids were moved inside. He says they started eating snacks and playing games to keep the kids occupied while they alerted parents of the situation.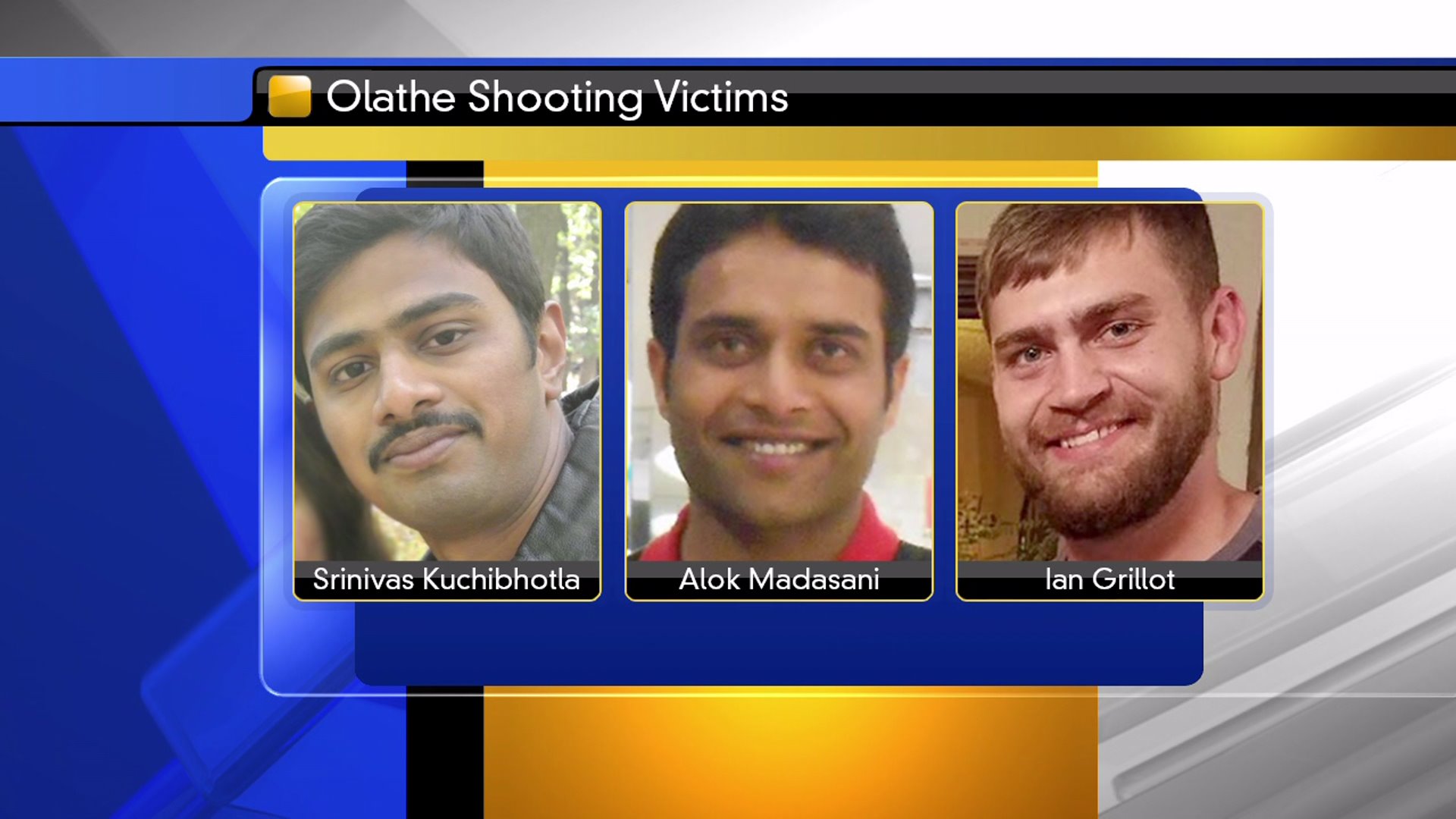 The pastor said thankfully they have a lockdown procedure, and it helped them stay calm so as not to scare the kids.
Olathe police revealed Thursday at a joint press conference they are working alongside the FBI to determine what's next, including whether federal hate crime charges are possible.
The FBI got involved after witnesses and victims' family members claimed suspect Adam Purinton used racial slurs before shooting two men believed to be from India.
The two men targeted have been identified as Srinivas Kuchibhotla, 32, and Alok Madasani, 32. Kuchibhotla later died at the hospital.
A third bargoer, Ian Grillot, was also shot when he tried to intervene. Grillot and Madasani are in stable condition at KU Hospital and are expected to recover.
Pastor Peach says this certainly hits close to home because of the proximity and she says many of the staff members go to Austins for food and drink.
"When it does happen it strikes the community right in it's heart and soul, and for that to be 100 yards away we felt like we needed to open up our doors to provide a place for healing and liberation for the community members," pastor Peach said.
Austins is expected to open Saturday.