This is an archived article and the information in the article may be outdated. Please look at the time stamp on the story to see when it was last updated.
CLAY COUNTY, Mo. – A group of concerned citizens in Clay County are closer to reaching their goal. They started collecting signatures last summer to force Missouri State Auditor Nicole Galloway to audit Clay County.
Sherry Duffett and Jason Withington are just two of many who've spent the last year collecting signatures for a petition.
"We're all doing this out of our own time, our own pockets, and I think that's made it more personal for us, too," Duffett said.
The personal mission is to have Galloway dive into questionable spending and internal procedures in Clay County.
"We just went over the 6,100 mark. We're at 6,129," Withington said.
The group has the 5,500 signatures need but is still trying to build a safety net.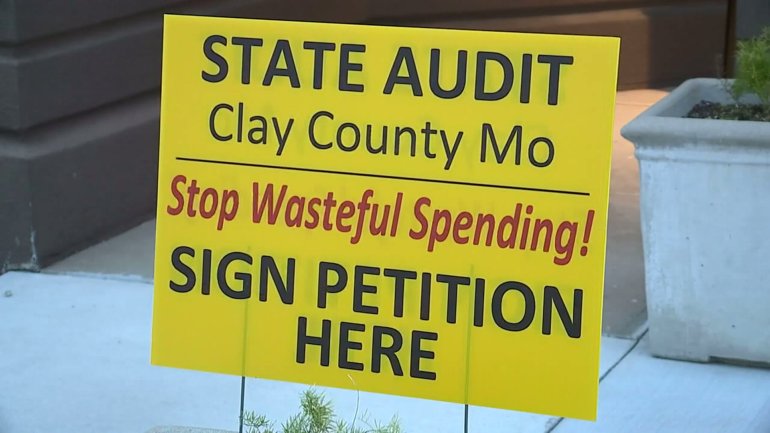 FOX4 first shared our investigation into Clay County back in February, followed by a second segment the following month.
Our investigation caught Galloway's attention, who last week sent Clay County a letter, saying she's heard from employees about the destruction of country records — records that might be missing by the time an audit happens. Galloway called this "disturbing," especially in a county where employees have been charged with tampering of public documents.
As FOX4 reported, those employees are Assistant County Administrator Laurie Portwood and Risk Management Specialist Lori Rodriguez.
Earlier this month, the attorney general's office reached a "deferred prosecution agreement" with Portwood and put her on two-year probation. Those actions have upset those leading the petition drive.
"I don't understand why she is still on the job," Duffett said. "I think she should've been terminated from the very beginning, or least put on a leave of absence. She is in charge of a lot of money."
The state dropped the charges against Rodriguez in March and made her a state witness.
"There is no lesson learned," Duffett said. "What's learned is that if you know the right people, you can get away with anything. And guess what? The county tax payers will pay for your legal fees."
The county still hasn't said how many taxpayer dollars were spent covering those legal fees, but FOX4 did learn Clay County taxpayers, in just January and February, footed the bill for more than $80,000 — for one law firm.
"When this all first started, I think a lot of people in the county thought people would talk about it for a month or two then it would all go away. We've all committed to this, and we're going to see it through the end."
FOX4 asked Clay County about the employees charged. This was the response: "Clay County is committed to a safe and fair workplace for its employees. The Clay County Commission has specifically forbidden retaliation against employees."
We also had the following written correspondence with County Commissioner Jerry Nolte:
FOX4: The group collecting signatures to force an audit by Nicole Galloway's office is getting to — or has already surpassed — the number of required signatures. What is the county's reaction to these figures and the group's initiative? If they collected the required signatures — and the numbers are verified — will Clay County take any action to prevent Nicole Galloway from conducting the audit?
Nolte: "Speaking for myself, I am in favor of the audit, there have been enough instances of highly questionable spending that an audit is warranted. I understand it has been approximately 25 years since the last state audit. Once the legal process is underway, I will do everything in my power to cooperate and encourage all employees to cooperate with a legally mandated audit of Clay County."
FOX4: We have a copy of the May 16, 2018, letter Nicole Galloway sent to Lowell Pearson about a whistleblower's complaint regarding the possible destruction of documents in Clay County. What is your response to this complaint and the auditor's letter? What steps is the county taking to ensure — as the state auditor requested — that all records are being preserved and there will be no retaliation to employees who report improper or illegal activities?
Nolte: "I regard the tampering, mutilation and destruction of public documents very seriously. I have written a letter to the Administrator instructing him to not allow the destruction of any documents related to a possible state audit. On May 4, I wrote the Administrator asking him to present his plan to safeguard official documents going forward in light of the recent criminal proceedings related to tampering with official documents."
FOX4: We have a copy of the Husch Blackwell bills for January and February 2018 that totals $81,789. The group collecting signatures to force a state audit have expressed concerns about the county's legal bills. Is that $81,789 a good use of taxpayer's funds? If so, why?
Nolte: "No, it is far in excess of what our legal bills have been in the past."
FOX4: We have a copy of the letter Mr. Pearson sent to Jason Withington, who is part of the group spearheading the petition drive for the audit. What prompted the county counselor to send that letter? Who authorized the letter? How much did Mr. Pearson bill taxpayers to send that letter?
Nolte: "I did not authorize that letter and the Commission did not authorize that letter in any meeting I participated in. I do not know what prompted Mr. Pearson to write that letter. I do not know the cost of that particular letter, but to me the more serious concern is a non-elected contractor committing the county government to possibly engaging in legal action that could have both legal and financial consequences to taxpayers without the knowledge or approval of the officials elected by the people to make those decisions."
---
If you'd like to confidentially submit information about suspected waste, fraud or abuse in state or local government, contact the Missouri State Auditor Whistleblower Hotline at 800-347-8597, via email at moaudit@auditor.mo.gov or online here.
Find out more about the Clay County audit petition, visit their Facebook page or call 816-472-9200.