This is an archived article and the information in the article may be outdated. Please look at the time stamp on the story to see when it was last updated.
CLINTON, Mo. — A 46-year-old woman and her 17-year-old son were murdered overnight in Clinton, Mo., and police continued Thursday to search for the suspect, identified as James Horn, 47, of Sedalia.
Police believe he murdered Sandra Kay Sutton, 46, and her son Zachary, 17. They were found shot to death by family members early Thursday at about 4:20 a.m.  Sutton is the same woman who in April escaped from captivity in Sedalia, where she said Horn was holding her captive in a wooden box.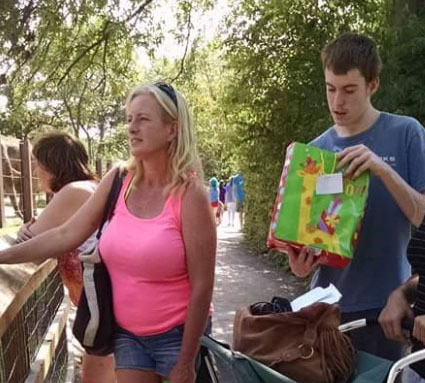 Shortly after their bodies were discovered, police surrounded Horn's home in the 800th Block of E. 15th St., in Sedalia where Sandra Sutton said she was forced to stay in a box from January until her escape in April.  Police brought in a  robot to more safely determine if Horn was inside his home or any of the surrounding vacant homes, and whether he was armed.  Police believe Horn returned to Sedalia because they found a car stolen from Sandra Sutton's parents in Sedalia at Bothwell Regional Health Center. Surveillance video from there showed a man matching Horn's description getting out of the car and walking in the direction of the homes.  Police asked people to leave the area because it "might not be safe here pretty soon," according to a SWAT officer.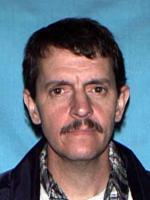 However, shortly after 4 p.m. Thursday, police announced they did not find Horn inside. Police called off the search inside the homes and were clearing out. Horn's whereabouts are still unknown.  He should be considered armed and dangerous.  He is described as a 47-year-old male, 5'11" tall, 175 lbs. He has brown hair and brown eyes.
At a news conference late Thursday morning, Clinton Police Lt. Sonny Lynch answered the main question: Why was she not better protected while she was living in Clinton, which is about an hour away from where Horn lived in Sedalia?
"She was not in protective custody. Several folks have asked that. 'Why didn't the police protect her? Why was she not in protective custody?' The fact is, we didn't know that she was living in our community and as far as I can tell from checking she has never even sought an order of protection against James Horn," Lt. Lynch said. "We were not notified that she lived here, neither by her, nor anyone else. No one requested patrols. We were not aware that that type of situation even existed."
Police have been trying to find Horn since April 30 when Sandra escaped from the box. According to the probable cause document, police found sleeping bags, reading material, flash lights and a bucket full of urine and feces inside the wooden box where Sandra said she lived. The box was described 100 inches long, 48″ wide and 52″ tall. The box had been sound-proofed but contained a small hole for air. It was found near the southwest bedroom.
Horn was charged with kidnapping, armed criminal action and unlawful use of a weapon in connection to the case but has remained at large.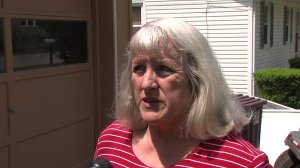 "If you see this guy you need to turn him in, he's a very dangerous guy, and he could do this to your daughter," Sandra's mother told FOX 4's Shannon O'Brien when she spoke to her on May 4.  Shannon spoke again to Sandra's mother on Thursday morning after her daughter was found murdered. She said she is terrified. She says police have been to her house several times, and she is scared that she is next on Horn's list to kill.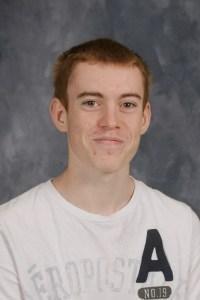 Sandra's son, Zachary, attended Clinton High School. The school issued a statement on Twitter Thursday morning that said, "Zachary was a wonderful young man and a pleasure to be around. He will be missed dearly at CHS." The school went on to say, "We are heartbroken over the tragic and senseless loss of Zach Sutton and his mother." Clinton High School said they will have counselors available for students and staff.
"James, I don't believe what they're telling me, but to make it easier on you, turn yourself in," his stepmother said shortly after Sandra's escape.
On Thursday, FOX 4 spoke to members of Horn's family. They said he told them he was planning to turn himself in, but had some loose ends to tie up first.
Horn had a criminal history of violence before this. In 1992, when James Horn was 24-years old he was accused, and then convicted of kidnapping and sexual battery in Shelby County, Tenn. His girlfriend at the time said she'd been dating him for about five weeks when she broke up with him. She said she awoke the next day to find him rummaging through her closet. She said he put duct tape over her mouth and hands, and forced her to have sex with him.
He then tied her hands behind her back with shoe strings and forced her outside and into his 18-wheel truck. She says he drove her to a bridge, then pulled over and forced her to have sex with him again while her hands were still tied.
They stayed at that location for about seven hours, she said. In the meantime, her mother reported her missing. Horn then brought her back to her apartment the next day at about 5 a.m., and the victim called police.
Prosecutors filed charges against Horn, who pleaded guilty to kidnapping and sexual battery. He was sentenced and later released from custody March 14, 1995, according to Tennessee court records.
Then in July of 1996, while a divorce was pending between Horn and his estranged wife, he used a ladder to crawl through the attic of the home where she and her eight-year-old daughter were living, according to Mississippi court records. He then locked the eight-year-old in a closet and proceeded to rape and then kidnap his estranged wife.
During the kidnapping, he made her take out money from ATMs before he locked her in a car trunk and took her to Springfield, Mo. He threatened to kill her and repeatedly abused her during the kidnapping. An FBI SWAT team later rescued her at a Kansas City, Mo., motel where Horn had a knife held to her throat. He pleaded guilty to interstate kidnapping and was sentenced to 12 years and 9 months in prison followed by 5 years of supervised released.
He was released in December of 2011 and began his period of supervised released, which was transferred from the Northern District of Mississippi to the Western District of Missouri in February of 2012.
Anyone with any information about Horn's location is encouraged to call 911 immediately.
Clinton police have called in the Missouri Rural Major Case Squad to assist with the case. Missouri Highway Patrol will also work with Clinton and Henry County police.
FOX 4 has a crew in Sedalia and Clinton and will bring live coverage throughout the day.
[googlemaps https://www.google.com/maps/embed?pb=!1m28!1m12!1m3!1d399649.31975314417!2d-93.79855468934467!3d38.50470692047403!2m3!1f0!2f0!3f0!3m2!1i1024!2i768!4f13.1!4m13!3e6!4m5!1s0x87c41d77e2661955%3A0xf6da8d53b17283e6!2sClinton%2C+MO!3m2!1d38.368632399999996!2d-93.7782689!4m5!1s0x87c385c5a0cab02b%3A0x361dcef90e211e75!2sSedalia%2C+MO+65301!3m2!1d38.7044609!2d-93.2282613!5e0!3m2!1sen!2sus!4v1432235285635&w=600&h=450]