This is an archived article and the information in the article may be outdated. Please look at the time stamp on the story to see when it was last updated.
CLINTON, Mo. — Harlee Howell is a 2-year-old from Clinton, Mo. She's just like most other kids her age, but she was born with a genetic disorder.
On Nov. 28, she's going to have a big surgery, and one local salon is hoping to cut costs for this family in need.
Harlee knows how to count to five, but sometimes she forgets the number four. Her mom, Janelle Howell, said it's nothing she can't learn. Harlee isn't new to overcoming obstacles.
"We just feel so blessed that God gave her to us," Howell said. "When the genetic counselor mentioned Pfieffer Syndrome, it was the very first time I`d ever heard of Pfeiffer Syndrome, and it was terrifying."
But Howell isn't new to obstacles either. She went through 14 years of infertility and a miscarriage. Then she said God gave her Harlee.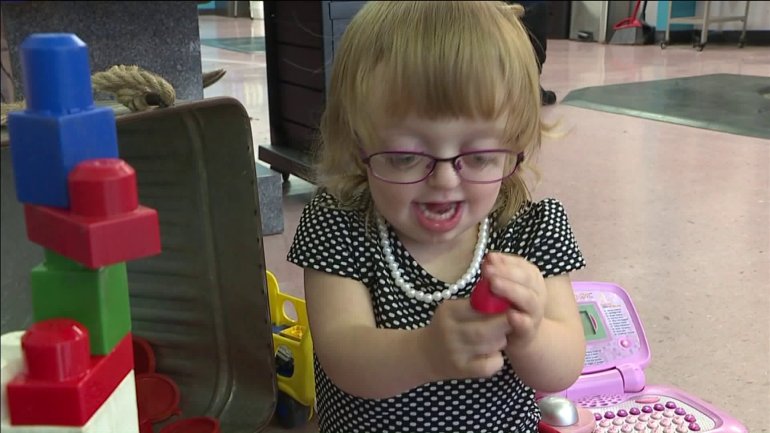 Pfeiffer Syndrome is a genetic disorder that causes bone growth issues, especially with the skull. It can fuse at an extremely young age causing issues for a growing child.
"After her first surgery, I realized she is a warrior, and I'm strong now because of her," Howell said. "She deserves a strong mother. She deserves somebody who is as strong as her. I`m strong now because of her. I gather my strength from her."
"I just, I wanted to help," Chelsie Stoops said. "I thought that could be me. That could be my daughter. That could have been my family."
Stoops went to high school with Howell and also owns the Snips n' Clips salons in Clinton and Warrensburg.
"Everybody has stress, has things that they struggle in life," Stoops said. "They've got extra stress. They've got more things that they have to worry about, and they deserve the help, you know."
Stoops started a fundraiser for Harlee's upcoming surgery, set up a raffle and is having a hair-a-thon where 25 percent of each haircut goes back to Harlee.
"She`s kind of an inspiration for all of us," Snip n' Clip manager Billie Huff said. "The strength she doesn't even know she has yet."
"I think it is a great give back to the community," hairstylist Tracy Stevenson said. "I think it is a great way to get her name out there, and give back to children who need help."
"Whatever we have to do," Stoops said. "If we've got to work sun up to sun down, we'll do it."
"There's not words to express the gratitude," Howell said. "You hold it in your heart. You remember that there is good. There are people that care. There are people rallying around your family, that they're praying, and you try to repay it when you can."
If you would like to help Harlee you can donate through Facebook, contact Snip n' Clips in Clinton at 660-885-9231 to purchase raffle tickets, or make a hair appointment for the hair-a-thon that runs Nov. 2-4 from open to close.