This is an archived article and the information in the article may be outdated. Please look at the time stamp on the story to see when it was last updated.
OTTAWA, Kan. — The verdict is in on the Kyle Flack trial with the jury ruling guilty in the deaths of four people, including an 18-month-old child.
It took the jury three hours to find Flack guilty of capital murder in the deaths of Lana and Kailey Bailey. The jury also reached guilty verdicts of 1st degree murder in the death of Steven White, and guilty of 2nd degree murder in the death of Andrew Stout.
The jury also found Flack guilty of criminal possession of a firearm.
Before reaching a verdict, the jury asked the judge if they needed to find truth in one or more than one of the four conditions that would qualify as capital murder. When they received word that it was just one, they reached their verdict only moments later.
Franklin Co. Prosecutor Stephen Hunting left the jury with a jailhouse phone call between Flack and his mother just before they began deliberations.
"I'm going to end up getting a lot of time out of this," Flack said in the call. "I'll be sad because, like, I'm not guilty of all of it, but I'm guilty."
Flack was accused of killing four people, including an 18-month-old girl, in 2013.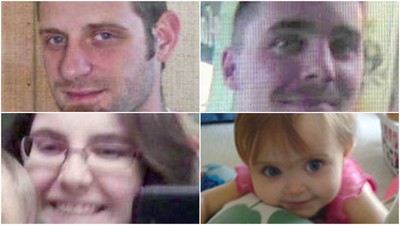 Flack's attorney argued that there is no direct evidence that links Flack to the killings of  18-month-old Lana Bailey, Kaylie Bailey, 21, Andrew Stout, 30, and Steven White, 31, other than some DNA evidence, fingerprints and video of Flack driving one of the victim's cars after police say Flack went on the killing spree.
Flack's defense said one of the victims was actually involved in the murder.
"Kyle told police that it was Andrew who shot Steven, and then handed the gun to him, so he shot Steven too," Flack's attorney said. "Except for the killing of Steven White, Kyle Flack never admitted to killing any of these people, in fact, he denied it again and again."
Three of the bodies were found on Stout's Ottawa property, including little Lana's body found stuffed in a suitcase and thrown in a creek.
All of the victims had been killed by gunshots, including the baby who had been shot in the back.
In the end, the defense could not poke enough holes in the case to prevent the six men and six women on the jury from finding Flack guilty.
Hunting admitted the case is circumstantial, but in his opinion, still strong enough for a conviction.
Flack now faces the death penalty. The sentencing phase of the trial starts on Monday.