This is an archived article and the information in the article may be outdated. Please look at the time stamp on the story to see when it was last updated.
TOPEKA, Kan. — Kansas Gov. Jeff Colyer and Secretary of State Kris Kobach clashed Tuesday night over spending on public schools while finding a point of agreement in their otherwise contentious Republican primary race in opposing efforts to legalize marijuana for medical use.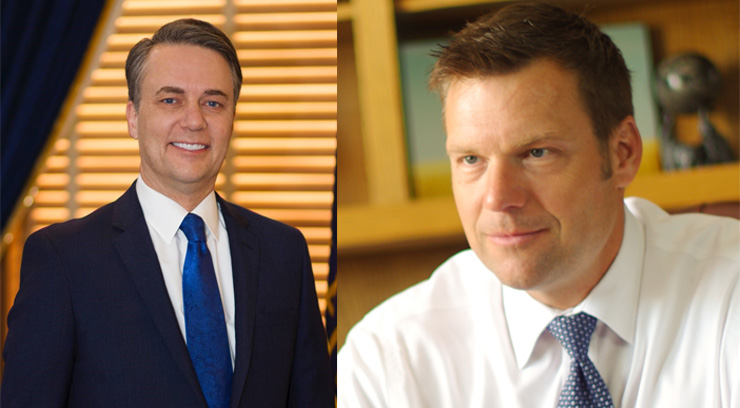 Kobach is trying to unseat Colyer in the Aug. 7 primary and appealed during a televised forum to fellow conservatives by attacking Colyer over a new state law that promises to phase in a $548 million increase in public schools funding over five years.
The law was a response to a Kansas Supreme Court decision in October that the state's total education funding of more than $4 billion a year wasn't adequate under the state constitution. The court ruled last month that the higher funding still isn't sufficient but gave lawmakers until next spring to fix it.
"That was after Gov. Colyer signed a bill paying a $500 million ransom, thinking that, that would be enough," Kobach said. "Look, this game is never going to end."
Colyer, Kobach, Insurance Commissioner Ken Selzer, former state Sen. Jim Barnett and Kansas City-area evangelist and entrepreneur Patrick Kucera also were asked whether they would support looser marijuana laws. Selzer, Kucera and Barnett expressed at least limited support for medical marijuana during the forum broadcast live by television stations KWCH in Wichita and WIBW in Topeka.
However, the forum started shortly after a top education official told the state school board that complying with the latest Supreme Court order would require phasing in another $364 million increase in spending over five years, meaning the total boost in spending would exceed $900 million. And the state spends more than half of its general tax dollars on public schools.
While Colyer didn't say how the state would pay for additional spending on schools, he touted this year's education funding law, noting that it came without a tax increase. He and lawmakers expect the state to rely on the annual growth in tax revenues to cover the cost.
"Kris Kobach doesn't want to support additional money for schools. I think Kansas schools need that money," Colyer said. "Otherwise, his policy will close Kansas schools, particularly our rural schools."
A pro-Colyer ad airing in Topeka before the forum said Kobach — who's called for cuts in taxes and government spending — would "punish schools with savage cuts."
Kobach rejected the criticism that his fiscal policies would force schools to close, calling it "ridiculous."
Barnett said the state won't be able to fund more school spending without creating economic growth, and Selzer promised to make schools more accountable for how dollars are spent, if elected. Kucera said public schools should focus on teaching students how to earn money and have an "entrepreneurial mindset" once they graduate.
The forum came only two weeks after traditionally conservative Oklahoma voted to legalize the medical use of marijuana. Selzer said he favors doing the same in Kansas, though he opposes legalizing pot for recreational use.
Kucera said legalizing medicinal marijuana use is "on the right side of history." Barnett said he would sign carefully crafted and studied legislation, and the state should have the debate.
But Colyer said loosening the state's laws on marijuana would "really set our state backwards" and the federal government needs to make broader decisions about pot.
Kobach went further, saying his opposition to medicinal marijuana is based on being the father of five girls and that legalizing it sends an "unmistakable signal to the kids" that pot use is OK.
"I do not want to send that signal," he said.