This is an archived article and the information in the article may be outdated. Please look at the time stamp on the story to see when it was last updated.
KANSAS CITY, Mo. — The KCI Selection Committee announced Wednesday that it is recommending  Edgemoor Infrastructure & Real Estate, to build a new single-terminal airport at KCI.
Edgemoor was one of four firms to bid on the project that would change the landscape of KCI to meet the security demands of the Federal Aviation Administration as well as provide more access to stores, restaurants and restrooms within the gates.
The 6-member committee spent many hours researching the proposals of the four companies, which included Edgemoor, Burns and McDonnell,  Los Angeles-based airport engineering firm AECOM and BlueScope Construction.
"Their financial approach gave the city the most flexibility," said Jolie Justus, 4th district councilwoman and chair of the KCI Selection Committee.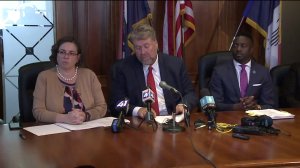 Justus said there were three categories on which the committee focused: Experience, project approach and financial approach.
"I think there will be a hearty debate about the outcome, but that's okay," Troy Schulte, city manager said.
"This was not a slam dunk. We had to work through each of the proposals," he repeated later in the news conference.
The city contract to build the new airport terminal is expected to be valued at about $1-billion. Competition to get that lucrative deal had become fierce.
Justus reiterated that they felt Edgemoor's proposal was the best project for the city and all the people who use KCI.
"Their proposal was lowest cost option to the city. More project and less cost to the city. Finance proposal preserves city's credit," Justus said.
Justus said the committee also believes in Edgemoor's track record.  She said they have done $60 billion in aviation projects. She said they have put together a team of construction companies and architects; they have a reputation for staying on budget, for working with construction teams and minority hiring.
She also emphasized that their proposal calls for making KCI a 'green' airport. Schulte said all the proposals, from all four firms, were good.
"In the end, this has not been an easy process. This has been a tough fight and frankly it should be a tough fight because this is a billion dollar project that is going to be transformational for our city. This means thousands of jobs. It means an economic development, a future for Kansas City that is bright," Justus said.
Burns and McDonnell was the first company to submit a bid and proposal for the airport project. Supporters of their proposal touted that it would cost no taxpayer money and would be privately-funded by the engineering firm. In the spring, Mayor Sly James opened the bidding process to other companies after the city council received a letter from Los Angeles-based airport engineering firm AECOM that it wanted in on the opportunity.
On Thursday, the city council will decide if it wants to accept the committee's recommendation.
"What is most important for all of us to keep in mind is that a world class city certainly deserves a world class airport," said Jermaine Reed, committee member and representative of the 3rd district.
"Ultimately it will be up to the voters to decide whether or not they agree that Kansas City is ready for a new single-terminal," Justus said.
The decision is expected to go before voters in November and be phrased as such:
Shall the City of Kansas City be authorized to construct a new passenger terminal at Kansas City International Airport and demolish existing terminals as necessary, with all costs paid solely from the revenues derived by the City from the operation of its airports and related facilities, and without the issuance of general airport revenue bonds unless such general airport revenue bonds have received prior voter approval?
□YES □NO