This is an archived article and the information in the article may be outdated. Please look at the time stamp on the story to see when it was last updated.
GARDEN CITY, Mo. — The only officer left in Garden City, Missouri is the police chief, and the decision to lay off his entire department was a surprise to him, too.
"I am the Garden City Police Department," Chief Thomas Alber said. "I guess I am an army of one."
The department used to be an army of eight — until Wednesday morning when a human resources specialist representing the city showed up and laid off all seven officers in the police department, leaving Alber the only employee with no explanation as to why.
But that HR specialist did give the chief other instructions, such as not talking to the media. Alber said he chose to speak to FOX4 because this is a public safety issue.
"A disregard for the safety of the community, and it came out of nowhere," he said.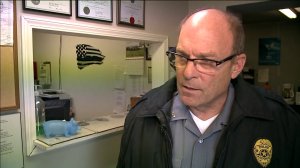 Sgt. Richard Williams has been at the department since 2001.
"The chief and I are both retired veterans, so it is really a kick in the teeth there," Williams said.
Garden City police handle 2,800 calls each year with an average response time of 2 to 3 minutes. Now, it will be up to the Cass County Sheriff's Department to respond.
"I absolutely think it is going to be a danger to the community today," Williams added. "We deal with crime here every day."
Garden City residents showed up at City Hall on Wednesday to find out why — but it was locked up tight.
A note posted on the front door said, "City Hall closed today. Open tomorrow. Thank you."
"City Hall is running scared. They know half of the town is going to be down here if they didn't lock it," one Garden City resident said.
Garden City Mayor Daniel Contrell was not at his business, and a woman at his home would not come to the door. City council members were also MIA.
A man who said he is going to run for Garden City Council in the next election would not give his name but told FOX4 that the night before, the council did vote to dismantle the police department. FOX4 checked and that item was not on the agenda.
"Citizens of Garden City, hang on. You have a chief that cares. You have a sheriff and his staff that care. And hang on," Alber said.
Residents of Garden City told FOX4 they want answers. Many of them plan to go to the next council meeting on Dec. 4 to find out why their safety has been compromised.