This is an archived article and the information in the article may be outdated. Please look at the time stamp on the story to see when it was last updated.
Lately, a new controversial version of Barbie has been raising a lot of discussion and debate among social media outlets after a concept photo of her went viral online.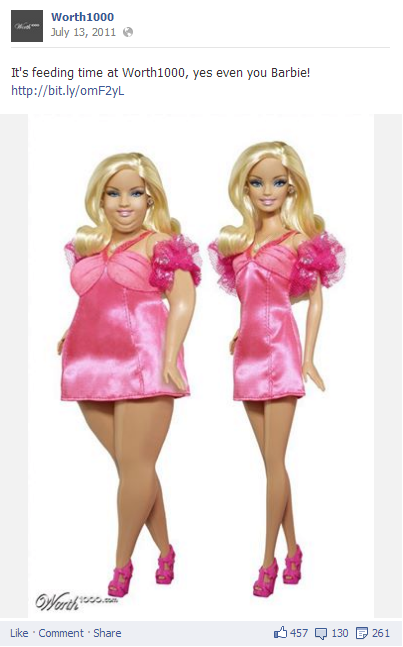 The photo, which was created by a company called Worth1000.com, shows a traditional Barbie on the right hand side, and then on the left is a new conceptualized plus-sized version of that same Barbie. The new Barbie features much wider hips, thicker extremities and torso area, as well as a fuller face, shorter neck and triple chin.
Plus Size ModelingThe image of the new Barbie, which was re-posted recently by the Facebook group, , was intended to create a discussion about whether or not plus-sized dolls should be made available to represent and support a more realistic body image for young girls in the current world. However, while at the same time the image has gotten several shares and likes, it has also received a lot of negative comments and criticisms.
The traditional Barbie has come under scrutiny in the past for being unrealistically proportioned and therefore creating a body image for young girls that is pretty much impossible to achieve. It has been determined through research that if the Barbie that everyone has grown up with became an actual human she would have a BMI of 16.24, which meets the weight criteria for anorexia.
Those who dislike the new plus-sized photo say that this Barbie, although a potentially good concept, is a poor execution of the idea. Critics argue that many plus-sized women although larger, do not necessarily have double or triple chins, and believe that the plus-sized version is inaccurate and could have been conceptualized with much less of an extreme emphasis on that area.
On the other side of the negative criticisms, commenters knock the new look completely, saying that this version of Barbie promotes obesity and an unhealthy lifestyle for young girls.
Many social media users requested that Barbie's manufacturer, Mattel, produce an average sized Barbie based off the proportions of the typical average female body type, eliminating the so-called 'promotion' of either extreme. The Huffington Post reported on one artist, Nickolay Lamm, who did just that by morphing Barbie with the proportions of an average 19-year-old female body. The more realistic Barbie features a shorter neck, a little more curves and is much shorter in stature.
Currently, it is unknown if Mattel has plans to create any new versions of Barbie, and because all the concepts created have been non-affiliated with the creator of the popular doll, it is very possible that new version could look much different then what these photos conceive.
CLICK HERE to read rehabs.com's study called 'Dying to be Barbie – An epidemic of body hatred.'