This is an archived article and the information in the article may be outdated. Please look at the time stamp on the story to see when it was last updated.
OLATHE, Kan. — Two men accused of the kidnapping and rape of a Johnson County sheriff's deputy faced a judge on Wednesday, and investigators contend that the deputy isn't the only victim.
William Luth and Brady Newman-Caddell are behind bars as investigators build a case against them involving the deputy's rape and other potential crimes.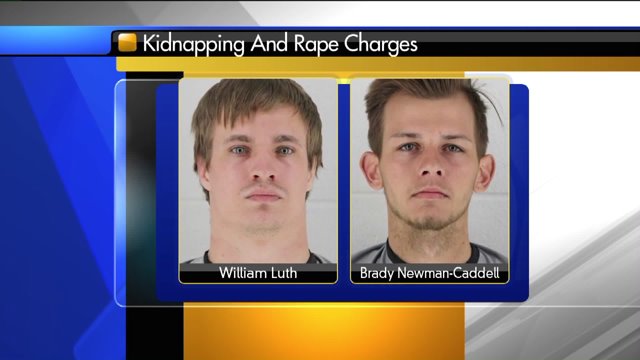 Johnson County District Attorney Steve Howe says his office is confident these are not the only crimes involving Luth and Newman-Caddell.
Police say the men abducted the female deputy late Friday night outside of the Johnson County Detention Center in downtown Olathe as she was going to work. They're accused of forcing her into a blue Mazda 3 owned by Luth`s wife and driving around, raping her multiple times before letting her go in Missouri.
"We know that there are other victim or victims and we are asking that now that these two individuals are in custody, we are asking that if people have had contact with these two individuals that they contact the TIPS Hotline or the Johnson County Sheriff`s Office," said Howe.
He wouldn't go into details, but sources tell FOX 4 police believe at least one of the suspect's DNA matches the DNA evidence from a reported rape in February which police say happened at the Stoney Brook Apartments on US 24 Highway in Independence.
"I can`t talk about why we believe this, but I will tell you that we feel like that now hopefully with these two being in custody that we can empower those individuals to come forward and talk to law enforcement about what happened to them," said Howe.
In February, the victim of the Independence rape told police that five men broke into her apartment, covered her face with her pants and gang raped her as her little girl slept next to her.
FOX 4 asked Howe if law enforcement believes one or both men were involved in other sexual assaults.
"Again, I am not going to talk about details like that," he reiterated.
Both Luth and Newman-Caddell are in jail on $1 million bonds, each for the charges associated with the deputy. Neither man has been charged with any crimes associated with other attacks. They will be back in court October 20.