This is an archived article and the information in the article may be outdated. Please look at the time stamp on the story to see when it was last updated.
KANSAS CITY, Mo. — A worker at a construction site fell 23 stories and died Thursday morning, officials say.
It happened at 1511 Baltimore in downtown Kansas City, the site of the Loews Hotel project being built near the Kansas City Convention Center. The job site is run by J.E. Dunn Construction.
The worker was employed by a subcontractor, the company said. The man's name hasn't been released at this time.
It's still unclear what caused the construction worker to fall to his death.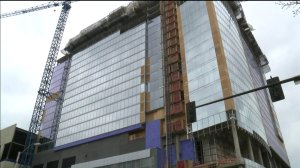 "Nobody actually witnessed it directly from the project, so we don't know a lot more than that other than somebody discovered what happened we assume pretty soon after the accident," said Paul Neidlein with J.E. Dunn.
The man had been working on the 8th floor but for some unknown reason reason went up to the higher floors of the building.
"We believe that he fell from the open area so not at the very top of the building," Neidlein said. "The building is at the 23rd floor right now near completion, and we believe that maybe the incident occurred around the 18th floor, which is where the glass stops right now."
With no eye witnesses, KCPD and the Occupational Safety and Health Administration are investigating to try and find out what happened — whether it was a safety issue or something else.
"From perimeter protection and if anybody is working at the highest levels, they are required to be tied off and have safety harnesses," Neidlein said.
"And even the people who are working in the safety areas you are always wearing hard hats, safety glasses like you see me in today and reflective vests to make sure there is no accidents and this project has been a safe project for us," he added.
The project is at a stand still until the investigation is complete. It could be back in operation as early as Monday.
7:50 "Really our priority is his family and the people that he worked with right now and supporting that however we can," Neidlein said.
JE Dunn provided this statement:
"We are sad to report there has been a fatality on our project at 15th and Baltimore. We are working closely with the employer of the deceased, who is one of our subcontractors, as well as the police, as they investigate. Our thoughts are with the deceased's family at this time."