This is an archived article and the information in the article may be outdated. Please look at the time stamp on the story to see when it was last updated.
INDEPENDENCE, Mo. — The investigation into three KCMO police officers who were shot and injured July 15 has uncovered that a convicted felon legally bought the gun from a metro store after passing an FBI background check.
This story begins July 6 when 25-year-old Marlin Mack was caught on surveillance video after walking in to J's Fish and Chicken Market at 54th and Prospect. That's where police say he shot and killed UMKC graduate student Sharath Koppu during an attempted robbery.
On July 15, after a 9-day manhunt, undercover officers spotted Mack at the Sky Vue motel on 40 Highway near Interstate 435. When Mack realized he had been found, KCPD Chief Rick Smith said, "He just popped up all of the sudden and engaged the officer."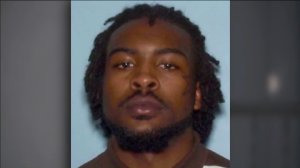 Two KCMO officers were shot and injured, and Mack took off in a car. Police chased him to a home at 29th and Topping Avenue where, during a several hour stand-off, Mack shot another police officer. Mack was killed in the shootout.
The day before the KCMO police officers were shot, Mack bought the gun he used in the shooting at The Armory KC gun store in Independence. He passed the FBI background check even though he was a convicted felon.
FOX4 Problem Solvers has learned that failure of the FBI allowed Mack to trade a high value pistol for a much more powerful gun: an AK-47 handgun.
"He needs to be warehoused until he is old and decrepit," said Tulsa, Oklahoma, Police Sgt. Dave Walker in 2011. "He is matter of fact. He just sits there and has no conscious whatsoever, so those are the ones that will eventually kill somebody."
Walker was talking about then 17-year-old Mack after he used a MAC-10 machine pistol in a violent attack and robbery of a woman in front of her children and then tried to kill the man who called police. Tulsa police called Mack one of Tulsa's most dangerous robbers.
Mack had a long rap sheet and was in and out of prison, but sources say when Mack went to The Armory KC, his FBI background check came back as a "Proceed to Transfer."
That means it didn't produce a hit in any of the data bases the FBI uses to check out gun buyers, so this very dangerous man walked out with a very dangerous weapon.
Kansas City Police are not commenting on this matter, instead, referring us to the FBI and Bureau of Alcohol, Tobacco, Firearms and Explosives.
FOX4 Problem Solvers contacted the FBI's Kansas City office, and agents declined to comment on the matter. Instead, they referred us to the FBI Criminal Justice Information Services Division in Clarksburg, West Virginia, where background checks are done. They told FOX4 they would respond to our request but need more time to answer our questions.
We also reached out to the ATF for comment and received the following statement:
"ATF continues to investigate the circumstances surrounding how Mr. Mack obtained a firearm.  This is an ongoing criminal investigation, so we are unable comment on the specifics of this case until the investigation is concluded."
FOX4 will continue look for answers about how a dangerous criminal passed an FBI background check.